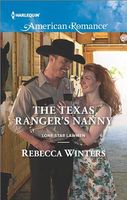 Series:
Lone Star Lawmen
(Book 2)
SON OF TEXAS
Vic Malone took a solemn oath when he joined the Texas Rangers, and devastating loss only hardened the widower's resolve to do good in the world. When his only son is kidnapped, he finds invaluable help in Claire Ames, who is just as committed to bringing home the boy they both love.
Sweet young Jeremy wasn't the only male Claire would miss when the chemistry grad left her nanny job to start a career in Houston. But all that matters now is helping Vic find his son. When they do, will she be able to leave, proud of her part in his rescue? Or will her Lone Star lawman realize what she's known all along -- that they share something too wonderful to lose?
Good book. Claire has been Jeremy's nanny for nine months and adores the little boy. She is devastated when he is kidnapped and is determined to help Vic however she can in finding the boy and bringing him home. Jeremy is Vic's whole life. He had lost his wife and parents a few years earlier during a tornado, and Jeremy is all he has left. Failure is not an option, even when he is taken off the case because he is too close to it.
The kidnapping and search scenes are very intense. I could feel Vic and Claire's fear as they worried about what was happening to Jeremy. I was surprised that Vic had been allowed to question the suspect at all because of his personal connection to the case. That he lost his cool and got put on leave was not unexpected. Neither was his plan to continue investigating on his own. I loved the way that Claire insisted on helping and how her scientific way of looking at things came up with different ideas on how to approach the search. Their success was very satisfying.
The kidnapping was only the catalyst for the relationship between them to come to the surface. This was a classic case of the principals having feelings for each other but not doing anything about it because of their professional relationship. Claire had fallen for little Jeremy almost immediately, and it didn't take much longer for her to fall for Vic. She admires his devotion to his duty, but also his obvious love for his son. However, she keeps her feelings to herself since she has had no indication from Vic that he sees her as anything other than his son's nanny. Vic has been attracted to Claire from the beginning, but doesn't want to do anything that would make her quit so he doesn't do anything about them. Working together to find Jeremy only intensifies the feelings that they have.
Claire is still determined to leave when her time is up because being near those she loves without being loved in return is too hard. Even when Vic asks her to stay longer, she believes it is only for Jeremy's sake. I loved her conversation with her mother, even though she refused to believe her mother's assertion that Vic cares just as much for her.
Vic had it a little tougher. He realizes his feelings for Claire, but there is so much else going on that they kind of get lost. He knows he doesn't want her to leave, and comes up with several ideas to keep her there, but none involved telling her how he feels. I really enjoyed his talks with the therapist his boss ordered him to see. It forced Vic to face the truth of everything that was going on.
I loved seeing how both of them wanted to do the right things for Jeremy. He was a great kid and I thought that he came through the kidnapping really well. It was the upheaval of Claire leaving that caused the most trouble. It was really sweet to see how it was Jeremy that got them to admit their feelings. There was one more part to the kidnapping that had to be dealt with and that was exciting. The final chapter was a really sweet wrap up.