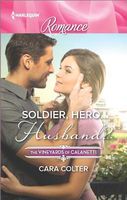 Series:
Vineyards of Calanetti
(Book 4)
The tortured hero's happily-ever-after
Former navy SEAL Connor Benson is in beautiful Tuscany, but he can't forget his time on the frontline. Meeting beautiful Isabella Rossi reminds him of everything he once fought for…and everything he can't have.
Isabella understands what it's like to be stuck in the past -- since becoming a widow she's been sleepwalking through life. But handsome Connor's delicious kisses are waking her up, and his courage inspires her: she must fight for the love they both deserve!
Sweet and intensely emotional story. It all starts when Connor awakens in the dark, disoriented because he can't remember where he is. As a former SEAL he is used to life on the edge, and before he is fully awake he has catapulted through the door and grabbed the person he heard sneaking around. He's embarrassed when he realizes that he is in a house in Italy and has just accosted his landlady. After some heartfelt apologies, they part ways, both of them more affected by the encounter than they want to admit.
Connor left the SEALs after his actions during his last mission resulted in his best friend being badly injured and confined to a wheelchair. The memories of the things he has done have him convinced that love and family are something that will never be his.
Isabella has been a widow for six years. Her husband had been her best friend from the time they were children. He had always been ill and she had married him knowing that he was dying. She has been grieving for him and her dreams ever since, and has resigned herself to living her life alone.
From the moment they met, Connor and Isabella were drawn to each other. Isabella saw past the shell that Connor shows everyone else, to the lonely man inside. She wants to show him that he's a better man than he believes, and that he has much to offer a woman. At the same time, Connor can't stand to see Isabella locked away in her grief, never having experienced the joy possible in a relationship between a man and a woman.
I loved the way that Connor and Isabella's relationship developed. Each is wary of risking their heart, taking two steps forward, then one step back, as the intensity of feeling gets to be too much. I loved seeing each of them use what they know best to reach out to the other. My favorite part was the swimming lessons that Connor gave to Isabella. He thought he would be safe from his attraction to her by concentrating on the lessons, only to be confronted by her determination to get his attention the best way she knew - with very tiny bathing suits. Oh, the battles he fought with himself!
There were also walks, moonlit picnics, and dancing under the stars. Mixed in were also moments of pain shared. And just when it looks like Connor finally believes in a future with Isabella, his past rises up to ruin it all. Fortunately for him, Isabella has learned her lessons in living well, and refuses to let him go. I loved seeing the lengths she went to in order to find him and the effect that she had on him when she did.
"So love could be this, too. Not just gentle and sweet and quiet and compliant. But this: as strong as steel forged in a fire."
I loved the sense of wonder and healing as the two lonely and hurting people found their second chance at love.
The descriptions of the setting, from the river to the quality of the light to the recently discovered fresco were so vivid that I felt as though I was there.