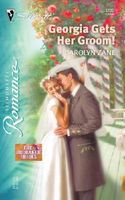 Series:
Brubaker Brides
(Book 11)
Georgia couldn't believe it! She'd been guilted into escorting her childhood neighbor around the town's big reunion. Yes, Carter was now grown up, but to Georgia, he'd always be nerdy Cootie Biggles. Yet when Georgia was threatened, who should swoop to her rescue but Cootie, unexpectedly transformed into a super secret agent, man of a thousand gadgets and a billion-dollar brain. Not to mention some very fine pecs!
Suddenly, the ex-geek next door was her knight in shining armor and the champion of her heart.
This was a fun book to read. Georgia is the youngest of the three sisters and feeling a bit left out of the "happily ever after" group. She's dating a guy, Brandon, that she thinks should be perfect for her but there's no spark. She gets a call to come home because she's needed for the big family party. Her job is to take care of one of the guests, her childhood friend Carter. When they were little, Carter was skinny, wore glasses, and always seemed to be off in his own world. Georgia spent a lot of time rescuing him from bullies before her family moved away. She doesn't expect him to have changed much, and first sight of him proves her right. Maybe not so skinny, but still has the geeky glasses and absent-minded attitude. She starts to get the idea that there's more to him than she thought when she finally gets him talking.
Carter has had a special place in his heart for Georgia ever since they were kids. He's still a bit of a nerd, being super intelligent and with multiple degrees. He gets rather tongue-tied around her, which only reinforces her belief. But there really is a lot more to Carter than she expects, and it all comes out in a rush when she overhears something she shouldn't.
When it looks like Georgia is in danger, Carter whisks her out of the party to his car and takes off. It seems that Carter is a mix of James Bond and Knight Rider, working with the FBI to catch some people who are violently anti-alternative energy. There's a car chase, disguises, a high-tech mobile headquarters in a semi-truck, and all kinds of mayhem. There's also some intense heat building between Carter and Georgia.
It was lots of fun to see Georgia's view of Carter undergo such a big change. His calm and cool attitude during their escape impressed her, as did hearing about the things he had done. What really amazed her was the way he made her feel. Whenever they would kiss, the world around them would disappear. Throughout the book, Georgia discovers that the magic she had been looking for was found in the most unexpected place.
I really enjoyed seeing Carter pull out all the stops to protect Georgia. The methods had some pretty amusing moments. The scene in the motel the first night, between the bugs and the train, was terrific. I loved seeing the two of them really get into their disguise as Keith and Lori. But the part that had me laughing until I cried, was at the end with the cow, the bad guys, and Georgia's use of Carter's fancy car. There was an interesting twist involving the kidnapped man, but everything ended well. The epilogue was a nice wrapup.