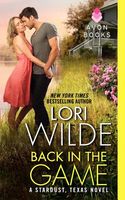 Series:
Stardust, Texas
(Book 1)
Wanted: ghostwriter. Must be female, a baseball fan, and have a great pair of legs.
Ex-pitcher Rowdy Blanton never saw a woman he couldn't conquer or a team he couldn't beat. And now that he's off the field he's ready to tell all about when he played the field. So he chooses Breeanne Carlyle to do the job -- she's got the requirements, but more important, there's something about her that makes him want to be a better man.
Convinced there's more to Rowdy than a good fastball, a wicked smile, and a tight pair of pants, Breeanne can't help but be tempted. After all, it's boring always being the good girl, and Rowdy dares her to be just a little bad. The stakes are high, but win or lose, this time Breeanne's breaking all the rules playing the game of love.
A sweet and spicy romance, with a touch of magic and a little bit of suspense. Rowdy is an ex-pitcher for a big league team, trying to come to grips with the end of his career. He's been asked to write his autobiography, and has a couple motivations for doing so. To do it, he's going to need a ghostwriter. Enter Breeanne, a self-professed baseball addict, writer, and huge fan of Rowdy's since she was a kid. With the help of a magical hope chest, she gets the chance at the job of her dreams.
Breeanne is a young woman who is ready to start living. After spending most of her life with a heart defect, enduring many surgeries, she is finally healthy. She is also ready to get out from under the overprotective umbrella of her family. A chance encounter with Rowdy at an estate auction gets her fantasies going, and a wish for a writing job brings them together.
I loved their encounter at the auction, as sweet and innocent Breeanne is totally flummoxed by Rowdy's assistance when she gets hit by a baseball. Rowdy is drawn to her and doesn't understand why, as she's nothing like the women he's always pursued. When she shows up to interview for the ghostwriter job, he has every intention of turning her down, but ends up hiring her instead. That scene is really funny as he uses her appearance to get rid of the other applicants.
Rowdy has an agenda in writing this book, dealing with the general manager of his former team, his injury, and some other reason that is hinted at but not explained until the end of the book. The problem is that he really doesn't want to talk about any of the things that will be included in the book. Instead, he uses his attraction to and fascination with Breeanne to distract her.
I loved the two of them together. Rowdy easily sees that Breeanne is an innocent, and once he finds out why, is determined to help her have some fun in her life. He doesn't treat her as if she's fragile, instead he sees her as a strong survivor. As for Breeanne, she wants to do right by the book, and knows she has to get Rowdy to open up to her. Because of the pain she's had in her own life, she can see that there is something that is haunting him. She pushes at him when she needs to, backs off when she sees he's reached his limit. She also has no problem standing up to him when he's being a jerk. I liked the way that they became friends first, before anything else happens.
The romance itself was good. Rowdy doesn't do commitment and makes sure that women he gets involved with know that. He doesn't expect to find himself wanting more out of his developing relationship with Breeanne. Even though she puts the moves on him (a really fun scene), he doesn't want to take advantage of her. His "Rookie Rules" were really sweet as he tries his best to do right by her. Breeanne knows that she's probably going to fall in love with him and get her heart broken, but she can't imagine being with anyone else that way. His insistence on taking things slow frustrates her, but she can't deny that she enjoys it. I loved seeing the changes they went through, thanks to the caring they experience from each other. It's all going great until something happens that drives them apart. Rowdy behaves like a jerk, and though he regrets it right away, making amends doesn't happen immediately. I loved his big moment at the end, as he did a fine job of groveling.
The suspense of the story centers around Rowdy's scumbag of a general manager. A little bit is revealed at the beginning, with more exposed as Rowdy's trust in Breeanne grows. Rowdy is a man who is caught between a rock and a hard place, as he wants to do what is right, but he also wants to protect those he cares about. The tension built as he got closer to confessing all to her. What happened next was something that could be seen coming, though the method was a bit of a surprise. Once it was out there, Rowdy had decisions to make, and what he did was very satisfying. Breeanne also had her moment to shine as she confronted the person responsible.
Family relationships also play an important part in the story. I loved Breeanne's family and their obvious love for each other. Though she often feels smothered, Breeanne knows that they love her and will support her in whatever she does. Each of her sisters has a unique personality and I'm looking forward to their stories. I also liked Rowdy's brother, though he definitely has some growing up to do.