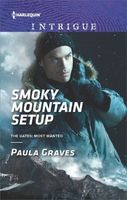 Series:
Gates: Most Wanted
(Book 1)
Coming in from the cold had never been so heated by an old attraction
On the run for two years, former FBI agent Cade Landry has only one person he can turn to: Olivia Sharp, his former partner -- and lover. But after all this time, trusting the beauty is sure to put both their lives on the line. Taking that risk, Cade braves a raging storm to seek her help. The moment they're reunited, and with no time to explore their reignited passion or the case that tore them apart, they must focus on bringing a band of domestic terrorists to justice. Hurtling them through snow-choked mountains into harrowing danger, Cade feels the pressure of what's at stake: his future, Olivia's life…and a love that never died.
Very good book with excellent suspense and a second chance at love for Cade and Olivia. Cade has been on the run for two years after surviving a setup by a fellow agent and then being taken captive by a local militia/terrorist group. After escaping from them and going into hiding, he's decided to contact the one person he thinks he can trust. Olivia was his partner before all the trouble, and also the woman he had loved.
Olivia is stunned when he appears at her house in the middle of a blizzard, and even more so when she finds out what brought him out of hiding. Cade discovered that Olivia has become the target of the BRI, and he is determined to protect her. Neither expected the attraction that still burned between them. There are big trust issues that have them wary about believing in each other. I liked the way that they were upfront about those feelings and found the time to talk about them. Each of them had things in their past that made trusting others difficult, and worked against them in their previous relationship. I loved how both agreed that picking up where they left off would be a mistake, because of how much they had changed, but starting over, with better communication and sharing could be possible. It was great to see them getting to know each other all over again, and learn to open up more than they had before.
The suspense of the story was fantastic. The team at The Gates is still working on bringing down the BRI. When Cade disappeared he was suspected of working with them and proving his innocence would be difficult since he didn't know who in the FBI could be trusted. Their flight during the storm was intense as they battled the elements to get to safety. The support they got from Olivia's fellow agents was fantastic, with some pretty amusing encounters with them. As both BRI and the FBI started closing in on Cade and Olivia, they had to make some decisions on what they were going to do. Their plan was intense, with some pretty interesting results. While Cade's problem was solved, opening up a new future for him and Olivia, there are still questions to be answered. I can't wait to read the next book in the series.