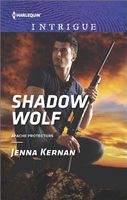 Series:
Apache Protectors
(Book 1)
He wanted justice. For his family. For her.
Elite tracker Kino Cosen is hunting for the drug lord who murdered his father. After a decade of searching, he's finally got the Viper in his sight -- until a woman gets in the way. Now Kino has a new lead. Aid worker Lea Atlaha has seen the Viper face-to-face…and lived.
But now Lea's a target. And while Kino thinks he's protecting her because she can help him get justice for his father, he soon realizes that she's not just another witness. As the Viper moves in for the kill, Kino has to choose between his need for vengeance, the traditions of his tribe and the woman he has grown to love.
Good book with some interesting parallels to some of today's issues. Kino and his brother Clay are temporarily working with a group called Shadow Wolves. They are excellent trackers who help hunt down and stop drug smugglers who use illegal immigrants to move their drugs. Kino also has a personal mission to find the drug lord who had murdered his father years earlier. He's certain that the man in his rifle sights is the Viper, when a woman gets between him and his target.
Lea is a volunteer with a group that sets up water stations in the desert for people who may need it, whether they are legal or not. She had simply stopped to talk to the man on the side of the road when he aimed his gun at her. She was certain she was going to die when shots broke her windshield and mirrors, but the man with the gun ran. Terrified by the sight of dead bodies and another man with a gun, it took her a bit to accept that he was one of the good guys. Kino was furious that his chance at stopping the Viper had been ruined, but knows that Lea is now a target. He is determined to protect the only person who can identify him.
The initial interactions between Kino and Lea were really interesting. First, there was an immediate physical connection, with both of them feeling attracted to the other. But they were on totally opposite sides when it came to their work. Kino is a man who lives a violent life with his work in law enforcement. He knows that it sometimes takes force to stop those with evil intentions. He also has a fairly one sided view of the war on drugs, looking at the illegals who transport the drugs as part of the problem. He has no sympathy for what they go through. Lea is a pacifist, who hates violence of any kind. She doesn't care if the people crossing the desert are criminals, she sees them as people first. She is willing to break the law to make sure the water stations are taken care of.
She wasn't happy to be stuck with Kino until the danger she was in became deadly obvious. As the two of them were forced into each other's company they began to get to know each other. Both are Apache and have that in common, but their differences create a strain between them. As Kino takes Lea from place to place in an effort to keep her safe, the chemistry between them continues to heat up. As they work together to try to discover the identity of the Viper, both of them begin to see things from the other's point of view. I loved seeing Lea accept that there are times when violence cannot be avoided, and that people like Kino are vital to the safety of all. It was also interesting to see how Lea's influence opened Kino's eyes to what his thirst for vengeance was doing to his own life. There were some other issues between them relating to Lea's background that could have kept them apart. Though Kino's initial responses to them weren't always what I had hoped, I liked the way that he was eventually able to look at them differently.
The suspense of the story was very good, with an increasing amount of action that kept me riveted to the pages. There were multiple possibilities as to who the Viper could be, and it seemed that every time they got close, the leads wound up dead. It was really interesting to see how tensions between various agencies added to the difficulties in following up on potential clues. The final confrontation was intense, with some really scary moments involving rattlesnakes too. Even their escape wasn't a sure thing, and Kino's determination to save Lea had problems of its own. The ending was very satisfying.
I loved getting to know a little about Kino's brothers. Clay has the most page time in this book. Some of his conversations with Lea give her a different way of looking at Kino and his actions. I liked the obvious closeness of the Cosen brothers, and how important family is to them all. There is an interesting storyline involving a missing sister and their search for her. It wasn't resolved in this book, and I suspect it will run through all four. I'm looking forward to the other stories and seeing how this ends up.
I enjoyed the setting of the Tohono O'odham Apache lands. There was just enough information given to pique my curiosity, so I googled them and checked out the website (
http://www.tonation-nsn.gov/default.aspx
). That added a little more depth to the story and made it even more enjoyable.