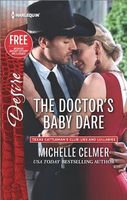 Series:
Texas Cattleman's Club: Lies and Lullabies
(Book 4)
Pediatrician Parker Reese likes to play the field and usually has women at his beck and call. Until caring for a newborn in crisis sets him on a collision course with beautiful but standoffish nurse Clare Connelly. He's willing to wager he can seduce her despite herself. But as they bond over healing the baby, the question becomes: Who's seducing whom? Soon all bets are off, but can Clare trust her heart to this player or is it just a game?
Fun book. Parker showed up as one of Liam's friends in
Nanny Makes Three
, a popular doctor who has a reputation with the ladies. In this book he has set his sights on Clare, a woman who has intrigued him from the moment he met her. Though she discourages his advances, he gets the feeling there is some interest. Caring for a critically ill newborn together gives him a chance to get a little closer.
I really liked Parker. He always seemed to have an upbeat attitude and wasn't one of those arrogant, know-it-all doctors. I loved seeing how much he cared about baby Janey and finding out what was wrong with her. Clare's touch-me-not attitude was a challenge for him, and he loved poking at her with his pet names and flirting ways.
I liked Clare too. She is just as drawn to Parker, but a bad experience when she was younger makes her keep her distance from doctors as relationships. That experience also makes it difficult for her to trust men, especially ones that she sees as players like Parker.
I loved the development of their relationship. After several months of not quite adversarial interactions, they came together over their mutual concern for baby Janey. I loved seeing Parker's sensitive side come out when he was talking to her in the stairwell. Then his protectiveness when he found her stranded with car trouble, and the way he used it to his advantage. He was really funny when he took her home and kept teasing her with his outrageous actions. Out of the hospital it was harder for Clare to deny her attraction to Parker, and seeing her just go for it was awesome. Again, Parker shows great sensitivity when Clare shows evidence of some hangups, and that makes Clare soften even more toward him. As they get closer, both of them are able to open up to each other about the things in their pasts that have affected them the most, which only deepens the feelings that are starting to develop. Things are really looking good until a boneheaded action of Parker's threatens the trust that Clare has shown in him. I loved the advice that he got, and who it came from, showing that there have been some really big changes in his outlook. I also liked Clare's big moment at the end, and the changes it showed in her own life.
There's also an interesting twist regarding the identity of baby Janey. Who she turns out to be also solves the riddle of what had been making her so sick. I'm looking forward to the rest of her story in a later book.
I will say that the title really didn't seem to have much to do with the book. The only baby was Janey and there was no dare involving her. The only dare I saw was Parker daring Clare to take a chance on them.