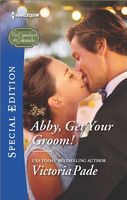 Series:
Camdens of Colorado
(Book 9)
ALWAYS A STYLIST, NEVER A BRIDE?
Abby Crane loves her job as a hairstylist, so it's a major coup when fabulously wealthy Dylan Camden hires her for his sister's nuptials. Raised tough and independent in foster care, Abby's dazzled and intimidated. It's fun to get swept up in the glamour, but Abby knows she could never really belong in his world…could she?
After an engagement gone disastrously wrong, Dylan's focused on mending bridges with his family and guarding his heart. Connecting with Abby was just supposed to be a favor for his grandmother -- repaying the debt his family owes hers. Yet the more time Dylan spends with Abby, the more he realizes all he wants to do is meet her at the altar!
Terrific Cinderella story. Dylan is back in Denver after working three months with their stores in Europe. He had gone there to escape a bad engagement, and has returned knowing that he still has to repair his relationships with his family. In their quest to make amends to some people for the actions of their fathers and grandfathers it is now Dylan's turn to make that happen.
Abby is a hairstylist in a shop that also has a terrific reputation for working with bridal parties. She's thrilled when Dylan hires her to help with his sister's wedding. She can't deny that she's attracted to him, but he's so far above her that there's no chance of anything happening.
I really liked Abby. She's tough and independent. She was found abandoned at a hospital when she was two and raised in foster care. She isn't the "poor me" type, she accepts her life as it is. However, her last boyfriend really did a number on her self-confidence, treating her badly because of what he saw as the drawbacks of being a foster kid. She is surprised when Dylan tells her about her father, what had happened to him and why. She's even more surprised by his determination to help her find out more and how he stays with her for support.
I felt bad for Dylan. Yes, he had screwed up with his engagement and all that went on with his fiancee. But he was really in a no-win situation for most of it. When the truth came out he did the right thing. Unfortunately for him, most of his family members are still holding it against him and often treating him like pond scum. He hopes that taking on this quest, and its resulting help for Lindie's wedding (
A Sweetheart for the Single Dad
) will help him repair his relationships with them. In the meantime, being with Abby goes a long way toward making him feel better.
I really liked the relationship that grew between them. It started out purely as business, with the wedding and the revelations about her family. I loved seeing a bit of protectiveness kick in as Dylan saw the impact on her. He also has a very satisfying reaction to the things she tells him about her ex. I loved seeing him include her in family events, even though she tried to resist. Abby is also sensitive to the tension around Dylan and his family, though she tries not to pry. She gets a front row seat to the cause of the problem during a confrontation with his ex. I was really impressed with how she handled it. The heat between them builds, but both are holding back. When the passion finally explodes between them, both are overwhelmed by what they feel. Now Dylan has to find a way to overcome Abby's insecurities and convince her that they can be happy together. The final scenes were emotional and sweet as Abby lets go of the past and embraces a future full of love and family.
As always, the Camden family plays a big part in the story. I was a little disappointed that they were still treating Dylan badly after three months, but other than that they were great. I was definitely rooting for Dylan to make it back into the family circle. I loved seeing how they included Abby in their gatherings. Just by being themselves Abby eventually saw that they had nothing in common with her ex. I must admit that a small part of me would love to see her run into her ex while with the Camdens. By my count, there should be one Camden still unmarried - I just can't figure out which one!