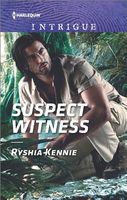 An undercover operation is the only way to bring an innocent witness home…
After months searching for a schoolteacher on the run from a criminal gang, CIA operative Josh Sedovich finally finds the innocent beauty in the remotest part of Malaysia. Eager to get Erin Argon home and into protective custody, Josh goes undercover to gain her trust and prove he isn't a threat. And although Erin claims to have witnessed the murder of a very dangerous man, Josh knows there's more to the story than she's letting on. But getting to know Erin -- in public and behind closed doors -- makes Josh realize just how determined she is to keep the truth hidden. Seems he isn't the only one keeping secrets that could get them both killed…
Good story made even more interesting by the unusual setting. Erin has been on the run for months, trying to stay ahead of hit men out to kill the only witness to a brutal murder. Josh is the CIA operative who has been sent to find her and bring her to safety. The story opens with Josh closing in on her, as he identifies the body of the last person known to have spent any time with her. When he gets word of Erin's current location, he knows there isn't any time to waste. He also knows that he can't just show up and expect her to go with him willingly.
Erin is tired of running but knows that she has no choice. She feels fairly confident in her current hiding place, until her car explodes as another school employee borrows it. Feeling guilty about Daniel's death, and terrified that she'll be found before she can get away, she flees without her usual detailed planning. She heads for a remote island resort, hoping for a few days to make plans for her next step.
Erin is a very intelligent and resourceful young woman. She is always watchful and has learned that she can't trust anyone. When she first encounters Josh, her impression is of a rather nerdy tourist, one who is rather attractive. Though she tries to keep her distance, she finds herself drawn to him and lets down her guard just a little bit. Josh is used to working undercover and his persona gives him a chance to build up a little bit of a rapport with Erin. However, he is constantly in touch with his superiors and knows that the bad guys are closing in fast.
Things start to get really exciting when the first attack comes. Suddenly the geeky tourist is someone a lot more intense and focused than Erin suspected. She isn't sure if she's really ready to trust him, but it looks like he's her only chance to get off the island alive. It seems like every hour brings a new challenge to their plans, from transportation problems and an increased number of pursuers to betrayal from unexpected sources. The final stretch was really intense, and kept me wondering what was going to happen next. The resolution was a bit of a surprise, but I liked the way it turned out.
I liked the way that their relationship developed. Though both had hidden their real selves, as they spent time together the masks began to drop. I liked the way that Josh had a good idea of Erin's capabilities from searching for her all those months. Once he met her it didn't take long for her to become more than just an assignment. I also liked the way he sensed that there was more to her decision to run than he had originally thought, and that he was able to get her to tell him the truth. I liked the way that Erin saw Josh as someone she could trust. She didn't expect to fall for him, and didn't think there was any future in it for them, thanks to what she knew of the way he lived his life. The ending was pretty sweet, with a bit of humor added in for good measure.