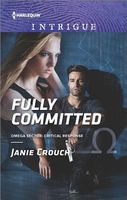 Series:
Omega Sector: Critical Response
(Book 2)
The Texas heat did nothing to stop an elusive criminal
Omega Sector: Critical Response agent Jon Hatton is running out of options. If he doesn't get a decent lead soon, a serial rapist will strike again. His best chances lie with the intuitive skills of forensic artist Sherry Mitchell, a beautiful woman struggling with PTSD.
In exchange for her help, Jon teaches Sherry to manage her symptoms, and soon they are unable to resist their Texas-hot attraction. With Jon as her lifeline, Sherry uncovers clues that prompt a frightening message from the attacker. Jon knows Sherry's determined to help catch this criminal, but keeping her safe is his top priority. Followed by making her his bride.
Fantastic book with a very intense storyline. Sherry is a forensic artist visiting a friend on vacation. The stresses of her job have gotten to the point where she is having trouble drawing. She is also always cold. Jon is a federal agent assigned to the Corpus Christi police department to help them find a serial rapist. He's used to resistance from local cops when it comes to the feds, but it's worse than usual.
Jon and Sherry meet at the hospital where a new victim has been taken. Jon is there for his job, while Sherry is there waiting for her friend Caroline, an EMT. Both of them witness the poor behavior of one of the police detectives toward the victim, and are horrified by it. Sherry can see what should be done, but her PTSD has her shivering in her shoes. Jon is determined to find someone else to help question the victims, and his resources at Omega send him to Sherry.
That meeting doesn't go well at first, as Jon is unaware of her problem and thinks she's being uncaring and selfish. Once he understands the problem, he offers to help her if she'll help him. Sherry really does want to help but is afraid that she won't be of any use. Once she makes the decision to work with him, she is all in. Jon's awareness of her problem enables him to show her how to deal with the stress so that it doesn't overwhelm her.
I loved seeing their relationship develop. There was an intense attraction from the beginning. I loved the way that he was so sensitive to her problem and determined to help her. It was sweet to see how he tried to keep their date free of any influence of their work. He's also very protective of her, especially after the message from the rapist. It was really fun to see his reaction when his two Omega friends/coworkers came to help and were making eyes at Sherry. His friend Liam also saw the truth of Jon's feelings before he did. Sherry was just as attracted to Jon. She had some trouble believing that he could really be interested in her with all her problems. I loved seeing how just being close to him drove away the coldness she felt, and how she began to understand what having him in her life meant to her. I loved seeing them get to know each other when they weren't working and how it helped them when they were. The ending was great. Jon's surprise for her was wonderful and it was fun to see him tell her all about his determination to convince her of his feelings and vision of their future, and Sherry's reaction to it.
The suspense of this story was fantastic. It kept me completely hooked and up well past my bedtime reading it. The frustration of Jon and the police department over the lack of leads was easily felt. Jon's disgust with the attitudes of the cops was understandable, especially when he witnessed the questioning of the one victim. The detailed descriptions of what Sherry did when she was working with the victims added another layer to the depth of the story. Her success at drawing obscure details from the victims made her a target. Things got really scary when Caroline became one of the victims and the cops finally got a lead. The final confrontation was intense with a twist that I didn't see coming.