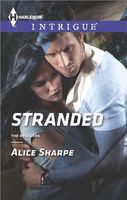 Series:
Rescuers
(Book 2)
AFTER MONTHS STRANDED IN THE MOUNTAINS, A DETECTIVE RETURNS HOME TO A TARGET ON HIS BACK -- AND HIS PREGNANT WIFE CAUGHT IN THE CROSSHAIRS…
When Detective Alex Foster's plane goes down in the remote Bitterroot Mountains, everyone thinks he is dead. Including his wife, Jessica. But against all odds, he survives, returning months later to the joyous news that Jessica is pregnant. Yet their reunion reminds them both of their imperfections. Then Alex discovers his plane crash was no accident. Someone wanted him dead and is now targeting Jessica to get to him. She wants honesty; he wants to keep the frightening details to himself. Protecting Jessica and his unborn child is Alex's first priority -- even if it means giving up his second chance at life to save theirs….
Very good book that had me unable to put it down until it was all done. It opens with Alex flying his plane through a snowstorm to a meeting with friends. His mind is somewhat distracted by the memory of the argument he'd had with his wife the night before. He's also not feeling well, which affects his reflexes when his plane has engine problems. He crash lands in the middle of a remote area.
His wife Jessica believes that he is either dead or has disappeared to get away from their troubled marriage. Three months later she is stunned when he reappears, limping, bearded and much thinner, but very much alive. Both of them look at his return as a chance to repair their marriage, but can they break old habits?
The strain on their marriage had been caused by a couple things. First, the stresses of their inability to conceive and Alex's refusal to consider adoption pulled them apart. Second was Alex's overprotectiveness. He wouldn't talk to Jessica about his work, preferring to keep the seamier side of his life separate. But this left Jessica feeling as though he didn't trust her to be able to handle it, and that she wasn't important enough to him to be part of his whole life.
I loved the rekindling of their marriage. Alex is overjoyed about the baby and determined to get things back on track. He is still protective, but after three months of uninterrupted thinking time, realizes that he has to make some changes. His love for Jessica was never in question, he just has to learn new ways to show it. Jessica is a bit more cautious at first, not sure if it is too late to fix their marriage. But she is determined to try, and vows that she won't let him shut her out any longer. I loved seeing her stubborn streak come out as she insisted on being involved. The scene at the lake was intense and emotional as Jessica finally breaks through some of Alex's walls and he opens up to her.
The suspense of the story was great. When Alex gets back and has a chance to talk to his friend Nate, he discovers that his crash may not have been an accident, and may be linked to an attack on Nate and the death of a friend of theirs. There is a home grown terrorist who has been coordinating attacks on ordinary people at holiday celebrations and they believe that something is planned for the upcoming Memorial Day weekend. As Alex investigates the possible sabotage of his plane, a mentally challenged young man and his mother are murdered, and several nuisance attacks are made on Jessica. They are sure it is all linked, but the question is how? All indications point to a local involvement, but the challenge is figuring out who it is. There are multiple possibilities, with quite a few twists and turns before all is revealed. The ending was really intense with danger to both Alex and Jessica and lots of excitement before it was all over.