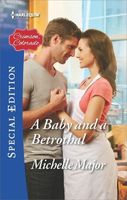 Series:
Crimson, Colorado
(Book 5)
WANTED: HUSBAND & DADDY Serious Candidates Only!
Katie Garrity is proud of her work at her Life is Sweet bakery, but it's high time she showed the town of Crimson that she's more than just "The Cupcake Lady." She wants to be "Mrs." and "Mommy" so badly she can't stand it! But in the small mountain town, the pickings are slim…until the one who got away returns.
As a forest ranger, Noah loves protecting the places and people he loves -- he just can't commit to forever. Katie has been his best friend since high school, but when did she turn into such a lovely woman? And is that desire he feels? Still, Crimson holds too many memories, and Katie wants things Noah can't give. But after one explosive night, it just may be too late. Only nine months will tell…
Very good book. Katie and Noah have been best friends since they were in high school, but Katie has always felt more than just friendship for Noah. She also knows that he'll never feel the same way about her, so she's decided that if she ever wants a family of her own she'll have to move on. Finding someone in tiny Crimson is going to be a real challenge, but she's trying. Then Noah comes back to town and she's right back where she started, still hung up on him.
Noah hasn't spent much time in Crimson over the last ten years due to the memories of what he sees as his failures. He hadn't handled his father's illness and death well and the guilt of his actions still affects his relationship with his family. At the same time he discovered that the girl he loved and was going to propose to was cheating on him. Since that time he has kept all his relationships superficial, protecting his heart from any more hurt. But now he's back in Crimson for the summer, to help take care of his mother during her recovery from major surgery. The plus side is getting to spend more time with best buddy Katie.
I loved Katie, but she sure did frustrate me at times. She is a sweet, caring woman who loves to take care of her friends. Thanks to her treatment by her parents, she has always felt as though she needed to "earn" her place in peoples' lives. She's always so worried about disappointing people that she doesn't say no to anything asked of her. Even with Noah, she's there for him, listening to his woman woes, even though it hurts to hear about them. She does have a few shining moments of doing something for herself. I especially loved the swimming section.
It was fun to see Noah suddenly realize that Katie was a beautiful woman. He's attracted to her and it freaks him out. When he loses his head and kisses her he's stunned when she kisses him back and they end up in bed together. The experience is so amazing that he panics and sneaks out, heading for the woods for a few days (supposedly for his job) so he can get his head together. When he comes back, ready for round two, he's shocked when she tells him to get lost. I loved seeing her tell him flat out that she wants more than he's willing to give and that she's got a date with a man who shows promise for a real relationship.
I loved seeing the shoe on the other foot as Noah is now the one who wants more. He knows he has to prove himself and he can't depend on his old ways of getting the girl. It was really sweet to see how well he knows her and how he puts that knowledge to use to try to win her over. Katie is now the one trying to protect herself. She has to decide if she's willing to take whatever she can get and deal with the pain when he leaves, or stay with just being friends. Just when things are looking promising, an old secret and an unexpected pregnancy send Noah running again. Now both Noah and Katie have to face their fears if they want a life together. I loved Noah's big moment at the end as his love for her breaks through everything else.
I really liked Noah and Katie's friends and how they were there when they needed someone. I loved the way that Noah's friends were there to support him the day of his mom's surgery whether he wanted it or not. I also liked the way that Jase read him the riot act when he needed it. I also loved how Katie's girlfriends listened, provided ice cream and sympathy, but also reminded her that she had loved Noah for a long time and not to give up.