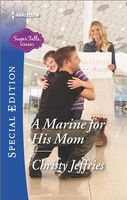 Series:
Sugar Falls, Idaho
(Book 1)
MAIL-ORDER DAD
Can you order a dad in the mail? Hunter Walker isn't sure, but he thinks Gunnery Sergeant Matthew Cooper might be the next best thing. The wounded warrior has been his pen pal for months, and now that he's come to Sugar Falls to recuperate, Hunter is over the moon. His mom? Not so much.
Maxine Walker has been acting weird ever since Cooper showed up. She seems to get mad whenever the veteran is around, which doesn't make any sense. And now Cooper is acting weird, too. Hunter doesn't understand why grown-ups always say things are complicated when they're really simple. His pen pal soldier and his sassy, stubborn mom belong together. But maybe they need just a little push…
Good book about two very different people brought together by a ten year old boy. Hunter has been pen pals with Cooper for a few months. When Cooper ends up in Sugar Falls, recuperating from an injury, Hunter looks at it as fate stepping in. His mom, not so much. She isn't too sure about the influence this stranger seems to have over her son and is determined to keep an eye on him. Cooper doesn't know what her problem is, but he just wants to heal and get on with his life.
I will say that I spent the first part of the book really disliking Maxine. She was way overprotective of Hunter, especially when it came to sports. She knew he was teased by his classmates, but didn't seem to realize that her actions were at the root of it. She knew he was pen pals with Cooper and even though she had the opportunity to read their letters she didn't bother - until she came face to face with him. Hunter was open and friendly and enthusiastic about helping Cooper, and Maxine was about as cold and distant as she could be.
Maxine's marriage hadn't been a good one. Her husband was an ex football player whose NFL dreams never panned out. He thought he was hot stuff and blamed his failures on everyone else before killing himself in a drunk driving accident. She has sworn to keep her distance from any more macho guys, which is how she sees Cooper. It doesn't take too long before she sees the good effect he has on Hunter, which softens her attitude a bit. She also can't deny that there is something about him that gets her heart beating a little faster.
Cooper is a loner and has been for a long time. His mother died when he was twelve and his stepfather dumped him in foster care. He joined the Marines at eighteen and made it his life. He never really made friends until he was forced into the pen pal program and got matched with Hunter. He's not sure why he feels a connection with the boy, but he can't deny that it exists, and finds himself enjoying it. He doesn't understand what Maxine's problem with him is.
I liked the development of their relationship. Through Hunter, they are forced to spend some time together. Maxine begins to realize that Cooper is not like her late husband and starts to open up a little to his suggestions for Hunter. Stuck in the small town during his recuperation, the influence of Maxine, Hunter and the others he gets to know gives Cooper a feeling of belonging that he's never had before. Slowly Maxine and Cooper discover that there is attraction, and maybe something more, building between them. In order for them to have the future they would like, both of them are going to have to face their fears. I really enjoyed the "pep talks" that Cooper endured, but gave him the motivation he needed. The ending was really good, especially the last bit from Hunter.
The only quibble I had with the book didn't affect my rating because it is most likely an editor/publisher problem. Cooper is a Marine, not a marine. When writing about a member of the United States Marine Corps, Marine is ALWAYS capitalized. This is something that the editors at Harlequin seem to have a problem with on a consistent basis and it bothers me every time. Marines are also never referred to as soldiers. Soldiers are members of the army and calling a Marine a soldier is looked at as an insult.