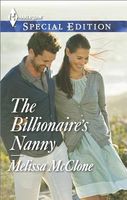 Series:
Coles of Haley's Bay
(Book 1)
TEMPORARY ASSISTANT…FULL-TIME FIANCÉE
Just when he thinks "problem solved," internet billionaire AJ Cole realizes he needs more than a temp. He needs a fiancée to show off when he returns home to Haley's Bay for the first time in ten years. His family has a habit of matchmaking, and AJ doesn't need the drama. But as soon as Emma Markwell agrees to his assignment, he learns that pretend love can feel oh-so real.
Once a nanny, Emma's played many games of make-believe. This shouldn't be any different -- until a few hot kisses meant for show blur the line between fantasy and reality! AJ doesn't do commitment, but Emma has always longed for true love and refuses to settle for less. AJ can't resist a challenge, and soon, he can't figure out if he's just trying to get into her bed…or keep her from getting into his heart.
Good book. AJ is really tense about going back to Haley's Bay after ten years away, but he's keeping a promise he made to his grandmother when he was eight years old. His assistant has the party plans well in hand when she comes down with appendicitis, leaving him in need of a temporary assistant. She recommends her best friend, Emma, a nanny who is between jobs, but can easily handle the job.
Their first meeting is a little rough, as Emma is also bringing her foster cat with her, a cat who doesn't like to fly any more than Emma does. Emma's fear of flying is bad enough that she gets sick on takeoff, causing AJ to wonder what he's gotten himself into. Things smooth out once the flight does, and they get a chance to talk.
AJ had left Haley's Bay and never returned because of a falling out with his father. AJ wanted more from life than being part of the family fishing business and his father didn't approve. AJ earned a scholarship to MIT and went on to become a billionaire with his computer business, but hasn't spoken to his father or brothers since. He's had some contact with the women in his family. He lets Emma know that he will be depending on her to act as a buffer between his family and him. Unfortunately for him, the ladies in his family have a plan for getting him to come back to Haley's Bay permanently, and that plan involves the sister of his sister-in-law. Three minutes of conversation with this woman and AJ panics, telling everyone that Emma is his girlfriend.
I really felt sorry for AJ here, because he was definitely feeling cornered and says the first thing that pops into his head. It gets even more interesting when his eighty year old grandmother puts them in the same bedroom because "she was young once". Emma is horrified, but feels a bit sorry for AJ, so she goes along with it - but not before exacting a little revenge of her own. It was pretty sweet to see the effects her demands had on him.
Emma has a hard time accepting the way that AJ has cut himself off from his family. She lost her family in a fire when she was ten, spending the rest of her childhood in foster homes. She would like nothing more for herself than a family of her own. She goes along with the deception in hopes of helping AJ mend his relationship with his family.
I loved seeing the two of them dealing with their deception. First they have to "practice" which shows that it could be far too easy to believe that it is real. There is a very definite attraction between them, but they look at it in different ways. AJ would like to pursue it, enjoy it, then walk away. He avoids commitment of any kind with women, having been burned when he was younger. He's certain that he can win Emma over to his way of thinking, because women never tell him no. Emma looks at the attraction as a disaster waiting to happen. She believes in love and marriage and family, and falling for a man who doesn't is not the way for her to get what she wants.
I liked seeing the relationship develop. Though he doesn't do commitment, AJ finds it incredibly easy to talk to Emma and share things with her. More and more often he pictures her in his life long term, which scares him and makes him pull back before allowing the thought to take root. He also discovers a feeling of protectiveness toward her, that exhibits in the sweetest way when she has an emergency back in Portland. Emma realizes that it would be very easy for her to fall in love with him. She has bouts of hope when some of his nicer moments happen, but when he advocates for a fling between them she knows she has to stand strong. I loved seeing her stand up for her own needs, and had to laugh at his confusion over her rejection. It was cool to see him bury his pride and ask his father and brothers for help. His big moment at the end was really romantic as he lays it all on the line. I also liked the way that Emma realized that she had been doing some running of her own before taking a chance on AJ.
It was interesting to see AJ's family dynamics. He had trouble seeing that he was just as stubborn as his father and it took a great deal of effort from Emma for him to see it. I enjoyed seeing the first steps when the guys were all out on the fishing boat. AJ's grandmother was also really sweet with a nice dash of sass to go along with it.