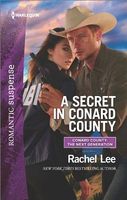 Series:
Conard County: The Next Generation
(Book 28)
Healing from bullet wounds and fleeing the bomber who shot her, FBI agent Erin Sanders refuses to play it safe. Driving west, she'll stay off the grid--until deputy sheriff Lance Conroe spoils her secret getaway.
Taking her to his remote Wyoming home, the hunky lawman only hopes to protect her. Just what headstrong, untrusting Erin doesn't want. But when another showdown with the bomber looms and a shocking betrayal surfaces, Erin wants Lance...badly. It's time to get over her control and intimacy issues to indulge their dangerous attraction. Because her plan to catch the killer could cost them both their lives.
Good book. Erin is recovering from wounds received from a bomber. She doesn't feel going to a safe house is a good option for her, so she hits the road, driving west from Chicago. By the time she reaches Wyoming, she realizes she's been pushing herself, and stops on the side of the road for a few moments of rest. Shortly after that deputy Lance Conroe stops to check on the stopped car. Finding out who she is and why she's on the road, Lance offers to put her up at his house to rest for a few days. Then they discover that the bomber is looking for her and Lance goes into protector mode.
I really liked both Lance and Erin. She is a dedicated FBI agent who gives everything to her job. She is determined to heal and recover so that she can get back to finding out who the bomber is. She's also been married, a union that didn't work out, and has left her feeling that she is unable to make a relationship work. She's a direct type of person who doesn't beat around the bush when she has something to say. Lance is a deputy who used to be a big city cop. He left Denver when the stress of what he was doing reduced his enjoyment of his job. He's made a good life for himself in Conard County. His past gives him a good understanding of what Erin is going through.
I loved the development of their relationship. From their very first meeting they are drawn to each other. I loved that first encounter and how it gave a good preview of what their relationship would be like. I really liked that Lance noticed her pain and exhaustion and how he wanted to do something about it. I loved seeing the way that Lance took care of her while she was staying with him. I especially enjoyed seeing how Erin would try to tough things out, but Lance's patience and understanding would end up winning out. As the next several days went by, they started to really get to know each other. I liked the way that Lance could read Erin so well and understand some of the things she couldn't say. I also liked seeing how that patience enabled Erin to open up about her past. The attraction between them kept growing. Neither denied it was there. I felt for Erin when she was trying to put the moves on Lance and he was worried about her motivations and if she would regret it. She also had some self-image issues thanks to the scarring from her attack. I loved Lance's reaction and how he tried to show her that he thought she was beautiful. As they got closer, their feelings grew stronger, but the truth of their jobs made them believe that nothing could come of it. Both understood that when the bomber was caught, Erin would be going back to Chicago. I loved the epilogue, as both had made certain decisions based on their feelings. I loved seeing them come together and realize that they wanted the same thing and had been pursuing it from different angles. I especially loved seeing what Erin had come up with.
I enjoyed the suspense of the story. In this book it was more mental than physical, as Erin and Lance waited quite impatiently for the bomber to arrive. After Erin began to heal and was able to think about what had happened, she began to feel that what had happened to her felt far more personal than she had originally suspected. Her belief that the bomber had someone on the inside who was helping him created some trust issues. I really enjoyed seeing how Lance and the sheriff set up their own protection detail for Erin while they waited. Erin had a couple of possible suspects for the insider, and it was interesting to see her puzzle out who it was. There were also times when we got the bomber's point of view. It was interesting to see his reactions to the "voice" that was calling the shots. The tension increased as he got closer to Erin's location, and Erin and company set up their trap. The final confrontation was quickly resolved, with both the bomber and the team member getting caught.
I really enjoyed seeing Seth and Gage as they worked with Lance to set up her protection. Their experience went a long way toward making Erin feel safe. I really liked the way that they were able to show her that they understood what she was going through and her fears. I also liked seeing Edie make an appearance. Some of her comments made an impression on Erin that helped her later when she made her decision about what she wanted to do. I can't wait to see what is next up in the series.