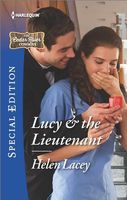 Series:
Cedar River Cowboys
(Book 2)
THE VIRGIN AND THE VETERAN
Dr. Lucy Monero feels like the oldest virgin on the planet. Still crushing on her longtime neighbor, she's waited a lifetime for her first…and last. The man she'll marry. And now he's back -- the star of her fantasies, ex-cowboy-turned-army-vet Brant Parker. The physician in her recognizes a wounded soul, but the woman in her burns for his touch. Lucy's head is filled with visions of white lace and white picket fences.
The last thing Brant needs is the walking, talking temptation that is Lucy. He may be out of his army fatigues but he still carries his demons. He's a loner, not the marrying kind that the hometown sweetheart deserves. So why can't he stop wanting her?
Very emotional story. Lucy came back to Cedar River after medical school because it is home. She has a job she loves and friends to hang out with, but no love life. She's been in love with the boy next door since she was fifteen, but he never noticed her. Now he's back after twelve years in the military, but he's not the same boy she knew.
Brant is back, but he's floundering a bit. He is spending all his time renovating the tavern he bought and avoiding spending much time with anyone. He's haunted by something that happened during his last tour, and determined to put it behind him, but ignoring it doesn't seem to be working. It doesn't help that he keeps running into Lucy, who makes it obvious that she's interested, but he feels too broken to be the man that she needs.
I felt a little sorry for Lucy at the beginning because, even though she's twenty-seven, her inner awkward teenager seems to come out whenever she is around Brant. But because of the things she's been through herself, she recognizes the pain that he is in and is determined to help him however she can. I loved seeing the way that she would stand up to him when he was being rude or a jerk. Brant tries hard to push her away and makes it clear to her that he doesn't do relationships. But being around Lucy seems to quiet his demons a little.
I liked seeing the relationship develop. Brant was really fighting what he felt for her, sometimes pushing her away and other times wanting to be with her. Because he feels he can't give her what she needs, he offers her friendship instead, and she accepts thinking that something is better than nothing. That friendship changes and grows almost from the start. Lucy knows she's in trouble, because what she felt as a teen pales in comparison to what she feels now. At the same time, Brant refuses to believe that what he feels for Lucy is more than friendship with some lust added in. When the attraction overcomes the friendship, Lucy gets part of what she wanted and begins to dream. Brant is still fighting the inevitable, and quite honestly treats her pretty badly. I loved seeing Lucy finally stand up for her own needs in an incredibly emotional scene where she tells him he has to decide if what they have is worth fighting for. It still takes awhile, plus some straight talk from his mother, before he's ready to take a chance. I loved his big moment at the end, it was so sweet and romantic.
I really liked the realism of Brant's struggles. Seeing him try to cope on his own was hard. I loved the way that Lucy used her own experiences to show him that there is nothing wrong with getting the help that you need. There was no miraculous fix at the end, just the knowledge that it is an ongoing process and that doing it together makes them stronger.