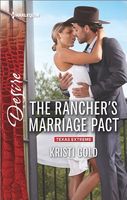 Series:
Texas Extreme
(Book 1)
A marriage of convenience, Texas-style
Dallas Calloway is desperate to find a bride. If the billionaire former rodeo champ's not married by his birthday, his dreams for the D Bar C will end, thanks to his father's will. So Paris Reynolds's arrival at the ranch looks like the answer to his prayers.
The ravishing interior designer is desperate for a job. And Dallas has a proposition he hopes she can't refuse -- marry him for one year, in name only, then get an annulment. But with the irresistible passion raging between them, how will they ever make it a year without sharing a marriage bed?
Good book and beginning to the series. Paris is an interior designer who is desperate for a job. Thanks to her ex-husband, she is in debt and jobless. She heard of Dallas's plans for Texas Extreme, and shows up to apply for a job that hasn't even been advertised yet.
Dallas is the oldest of the six Calloway sons. He is strong-willed and determined, which put him at odds with his father. After JD's death, Dallas discovered that he only inherits the ranch if he is married by his thirty-eighth birthday, which is only a few days away. As he isn't sure that his plans for the ranch will happen, he sends Paris away. Then his two stepmothers suggest he offer her a job as his wife, killing two birds with one stone.
Sparks fly between Dallas and Paris from the start. The chemistry is strong, but both are wary of getting involved. Paris isn't sure she can trust another man after being used so badly by her ex. Dallas has no intention of committing permanently to anyone. Finding out that his father was a bigamist has wrecked his ability to trust in any relationship, so he's decided to avoid them all together. He and Paris agree to a marriage in name only, with an annulment at the end, but the heat between them puts a strain on that plan. Discovering that an annulment would negate the reason for the marriage opens up the bedroom door for them. Giving in to the passion isn't a problem for them, but keeping their feelings out proves to be much harder.
I loved seeing the relationship develop. Paris knows immediately that she's going to have trouble keeping her heart safe. Though he appears to be pretty cynical, Paris sees glimpses of another side to him. Dallas has been determined to stay alone, but the more time he spends with Paris the more he finds visions of his future including her. This freaks him out a bit, and he does some pulling away before Paris confronts him about his behavior. There are some pretty sweet scenes of his protectiveness as he learns a little about her past. Things are looking promising for them as they both consider making the marriage permanent, when Paris's ex shows up, looking to make trouble. There are some things that come out that play on Dallas's fears, and he says some terrible things to Paris. I loved seeing her give as good as she got. It was fun to see Dallas's brothers and stepmothers get in on the act too. I especially liked his conversation with Maria, or as she put it "I verbally beat him over the head." I liked his big moment at the end with just a bit of groveling. The epilogue was good, with a not so surprising surprise at the end.
I really enjoyed the secondary characters of the two stepmothers. Their background story is a little odd, but it really works for the book. Each of them is an interesting character and their involvement adds a bit of fun. We didn't see too much of the brothers, and I'm looking forward to getting to know them.