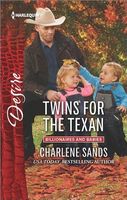 Series:
Billionaires and Babies
(Book 69)
After Wyatt Brandt rescues Brooke McKay en route to a Texas wedding, they spend one hot night together before going their separate ways. Now Brooke's back with news she isn't sure the wealthy rancher is ready to hear -- especially when she discovers he's already a father…of twins!
Being a single dad is a full-time job Wyatt can't do alone. He doesn't expect the ideal nanny to be the beauty who briefly shared his bed. But he accepts her help gladly -- not knowing her little secret will change his family forever…
Good book. On the way to a wedding, Brooke gets lost and runs out of gas. Fortunately she is rescued by Wyatt, who is on the way to the same wedding. Brooke, sister of movie star Dylan McKay (
One Secret Night, One Secret Baby
) is tired of being used by people who want to get close to her brother, so she doesn't tell Wyatt her real name. Instead, she enjoys an evening with a man who has no ulterior motives.
Wyatt lost his wife a few months earlier and has been mired in grief ever since. The only thing keeping him going is his twin children. His best friend encouraged him to go to the wedding and make a start at beginning to live again. Rescuing Brooke, who has no idea of what he's going through, gives him a welcome respite from his grief.
Brooke and Wyatt connect almost as soon as they meet. There is definitely chemistry between them and as the evening goes on the heat continues to build. When the wedding is over, it flares into a desire that neither can resist. But in the morning, Wyatt is gone, and Brooke feels used again. Six weeks later she discovers she's pregnant and knows she has to tell him.
I liked Brooke a lot. She is fun, great with kids, and an all around nice person. She hasn't had good luck with men, which has left her wary. I liked the fact that she wasn't going to keep the news to herself, but she is understandably nervous about telling him, especially when she finds out he already has two kids. When she gets trapped on his ranch because of the weather, I really liked the way that she jumped in to help Wyatt with the twins.
I also liked Wyatt. He is hurting, but being around his kids makes it a little better. I loved seeing how much he loved them. They have become everything to him and he doesn't see that changing at any time in the future. I liked the way that he owned up to his mistake in leaving the way he did the morning after the wedding.
I really enjoyed seeing the development of their relationship. Brooke had come to tell him about the baby, but chickened out when he was talking about his two being enough for him. Trapped together on the ranch and working together to take care of the twins, the attraction between them is still there and just as strong, but both try to resist it. Brooke knows there's no future in it and doesn't want to get her heart broken again. When Wyatt gets into a bind and needs a nanny for the kids, Brooke offers to fill in until he can find one for real. But all that togetherness has her falling hard for him. Wyatt isn't sure what he's feeling for Brooke, but it has him really confused. When her nanny time is up she leaves, still unable to tell him her secret. Meanwhile, Wyatt finally starts to realize the truth of his own feelings, but isn't sure if it's too late for him. I loved his big moment at the end, especially the "help" he had.
I also liked seeing Dylan and Emma again. Their love is still going strong, of course. I loved seeing their support of Brooke. Dylan's overprotectiveness still tends to irritate her, but Emma does a good job of keeping him under control. I liked his conversation with Wyatt at the end.