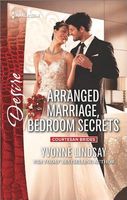 Series:
Courtesan Brides
(Book 1)
An arranged marriage means she's his bride. Her secrets make her much more…
Princess Mila will safeguard her kingdom by marrying a neighboring royal she barely knows. But she refuses to let Prince Thierry perfect his romantic arts with another woman. Disguised as his hired courtesan, the virgin princess plans to seduce her fiancé before their wedding night!
The mind-blowing chemistry they discover can't be taught -- or forgotten. Yet Mila's lie is unforgivable to a man who prizes honor above all. Public scandal threatens all Mila's dreams and her country's future…unless this prince can let passion, and his heart, reign supreme.
I loved this book. An arranged marriage between royals is nothing new, but one in which both the heroine and hero are virgins is definitely different. Thierry had grown up experiencing the worst kind of examples of marriage. All the male members of his family, and many of the females, were known for their profligate ways. He was determined to break that cycle by honoring his wife in the most basic of ways. He has been engaged to Princess Mila for seven years, since she was eighteen. Their wedding is scheduled to take place in a month. He wants to make sure that he is able to make her happy, both physically and emotionally, so he hires a courtesan to give him instruction (without any touching) on how to win Mila's heart.
Mila's engagement to Thierry is a way for their two kingdoms to bury decades of antagonism. At the time their engagement was announced, Mila was eighteen, slightly overweight, wore braces, and had no confidence in her ability to be the kind of wife he needed. She successfully convinced her brother, the king, to allow her to go to America for her education. She spent the next seven years pursuing her studies in environmental issues because she knew that it was a cause important to Thierry. She also developed her own requirements for a healthy marriage.
A month before her wedding she seized an opportunity to see Thierry outside of any official event. She hadn't seen or heard from him since their engagement, and she wanted a chance to see the real man behind the royal facade. During their brief encounter in New York, he had no idea who she was, but the few hours they spent talking made an impression on both of them. He returned home, never expecting to see her again, but unable to forget her. On her return home, Mila heard that he had hired a courtesan before the wedding, and determined that he would not be with any woman but her, took the woman's place.
Right there you see where things can go so terribly wrong. Thierry is a man to whom the worst kind of sin is that of dishonesty, and Mila's deception is bound to come back against her. Of course, I thought that Thierry was a bit naive himself, to think that he could spend time with a courtesan and not be tempted into a physical relationship. It was great fun to see Mila's surprise when she discovered that Thierry had not hired the courtesan to sleep with, but to learn how to treat his future wife. I loved the way that she was able to use that desire to show him her own views. It was really sweet to see how eager he was to learn. There were some times when his own issues caused missteps, but he was very good at seeing where he went wrong and fixing it. As they got to know each other, their feelings for each other grew and their chemistry was hot. Not a problem for Mila, because she knew the truth, but for Thierry, it was tearing him apart. He felt that he was betraying his own values and his fiancee by falling for this other woman.
When the truth finally came out, Thierry was furious. He felt that he had been betrayed by Mila in the worst possible way. No matter what his true feelings for her were, his trust had been destroyed. It was so painful to see how unhappy they both were because of it. I liked seeing that Mila realized just how badly she had messed up and that she wanted to fix it, not just on a personal level but also because of what it would mean for their countries. I got a little frustrated with Thierry's refusal to really listen to what she had to say. Unexpected danger sends him flying to her rescue, as he realizes how much he needs her in his life. I loved that they both made mistakes and learned from them before embarking on their promising future together.
I'm really looking forward to Mila's brother's story. There is trouble afoot in his kingdom and I can't wait to see how he deals with it. There is also his need to marry soon in order to keep his throne, and the apparent twist in his plans.