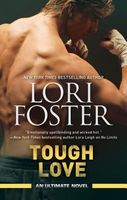 Series:
Ultimate
(Book 3)
Vanity Baker loves a good, clean match, but she's not above playing a little dirty. She's wanted Stack "The Wolf" Hannigan from day one. Seems as though the best way to corral the famously commitment-phobic fighter is to insist on keeping it casual. And her plan works -- deliciously well -- until Stack's past steps out of the shadows.
Stack learned early to stay free of attachments. But with sexy, forthright Vanity, he's the one always left wanting more. Then his troublemaking family comes back into the picture, threatening everything Stack cares about -- Vanity included. Suddenly he realizes they're much more than friends with benefits. He's ready to go to the mat for her…but will it be in time to protect the woman who's tamed him for good?
Very good book. This one picks up where
Holding Strong
left off, at the wedding of Cannon and Yvette (
No Limits
). In the previous book, Vanity, who wants Stack for her own, had made him a bargain if he would attend the wedding as her date. Now it's time to follow through, and she's really hoping it will pay off.
I really liked Vanity. She's beautiful but doesn't flaunt it, she's rich but doesn't advertise it, and she's just an all-around nice person. I loved the way that she fell for Stack right off, but also knew him enough not to tell him that right away. She comes up with the idea to make her pursuit of him be casual so that she doesn't scare him off, but hopes that once they're involved he'll want more. Most of the time Vanity gives the impression of self-confidence, but deep down she has some insecurities. She has no family and has made the fighters and their friends her family, but she still worries that she isn't good enough.
Stack is terrific. On the surface he is a tough alpha fighter, a bit of a player, and avoids commitment. But underneath he is caring, sweet, and very protective of those he cares about. He avoids commitments because he has a rather crazy family that tends to drive away anyone he gets involved with. He also has some trust issues, thanks to an earlier relationship gone wrong.
I loved the development of their relationship. They were friends first, as Vanity got to know all the fighters through her friend Yvette. But there was something more between the two of them - a heat that couldn't be denied. For Vanity, it was more than just attraction and she was determined to find a way to make him want more too. Her method of offering a night of sex for a date to the wedding was unique, but it got his attention, as did her flirting and teasing up until the date itself. As hot as they were for each other, it was fun to see all the things that conspired to delay their gratification. But once they did - whew! Those same events showed Stack a different side of Vanity, one that appealed to him like no other had. He decided he wanted more than just the one night that she promised. Because that's what she'd wanted all along, of course she went along with it. Besides the smoking chemistry between them, Stack also found Vanity becoming an even bigger part of his life. He was stunned that she took to his crazy family, bonding with his mother and sister. The more time they spend together, the more he pictures something permanent.
Not to say there aren't some bumps in the road. Because of his trust issues, Stack has some problems with jealousy over Vanity's friendships with the other fighters. In his heart he knows she's his, but he has a few instances of unreasonableness. It was fun to see the other guys give him a hard time about it. Vanity also makes a few errors. She knows that Stack has issues with people who lie, and she is afraid that her initial proposition to him will be seen that way. She also omits telling him about a few things that happen, which he considers just as bad as lying. When it all comes out, there is quite a blow up, and Stack says some pretty hard things. With her insecurities, Vanity is devastated, believing that they are through. I loved the ending, as Stack works through his anger and realizes his true feelings. He has some help from some of the guys and one of the ladies, who point out what an idiot he is. I loved his reunion with Vanity, as he gets more help from his sister, but it's Vanity's reaction that I enjoyed the most.
There was a bit of suspense dealing with the husband of Stack's sister. Phil is a good for nothing jerk, who has cheated on Tabby, is lazy, jobless and does drugs. Stack can't stand him and makes no bones about it. Someone hires some thugs to beat Stack up (like that's even possible), and the guys are determined to find out who and why. Phil also plans to con money from Vanity after he finds out she's wealthy. Worried about Stack, Vanity takes some steps of her own that backfire on her. A final confrontation reveals an interesting twist.
The secondary characters all add to the fun and depth of the story. The fighters, who are present in all the books, have a fantastic relationship. There is a lot of teasing and macho posturing, but there is no question that they are there for each other when needed. I especially loved the scene when Vanity and the other ladies pointed out that the rec center needs a ladies' locker room, and states that they will just have to use the men's locker room for now. I loved seeing them all scramble, each of their possessiveness running up against each other. Seeing Armie step in was especially amusing, especially once Merissa arrived. The inclusion of some of the newer fighters was a nice touch and perhaps an indicator for the future. I liked seeing the wives and girlfriends from earlier books, and how all of them have made Vanity part of their group. Stack's mom and sister were also loads of fun. His sister is such a drama queen, though a fun one who isn't overly annoying. It was sweet to see the way they both connected with Vanity and how much she loved them right from the start. I really enjoyed seeing Tabby go through the changes she did, thanks in big part to Vanity's example. Now I can't wait for the next book, to see Armie and Merissa finally get together.