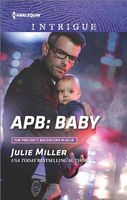 Series:
Precinct: Bachelors in Blue
(Book 1)
After a near-fatal shootout at his sister's wedding, third-generation lawman Niall Watson comes home to a baby in distress. The abandoned newborn in his neighbor's apartment sends the Kansas City PD criminologist into rescue mode once again.
Social worker Lucy McKane will do whatever it takes to protect the infant boy entrusted to her care. The tall, sexy ME next door may be clueless about her feelings for him, but Niall's the only one who can keep them safe. As a vengeful killer targets them, desire draws Lucy and Niall dangerously closer. Together, can they find justice and safeguard their newly created family?
Very good book that starts out with a bang. When his sister's wedding to Gabriel Knight (
Kansas City Cover-Up
) is interrupted by gunfire, medical examiner Niall Watson finds himself in the middle of trying to find out why. After all of the stress of the day, he comes home to find an abandoned baby in his neighbor's apartment. Lucy suspects that the baby belongs to her former foster daughter, and that Diana is in trouble. She's grateful for Niall's help.
I loved Niall and Lucy. Niall is part of a cop family. Rather that becoming a street cop or a detective, Niall's talents sent him in another direction. He is a medical examiner, the quiet, loner part of the family, best known for his calm and logical mind. He's much more comfortable around dead bodies than live ones. I loved his considered approach to hearing the baby, his logical steps, and then determined action. I loved seeing him take the baby, and then how his mind walked him through what to do next. Lucy's arrival on the scene throws him into a bit of turmoil. He has taken quite a bit of notice of her, being a man, but is a bit awkward around people, so has had few conversations with her.
Lucy is a social worker who is worried about the former foster daughter she hasn't seen in more than a year. A recent call from Diana gave her the feeling that the young woman is in trouble. Finding Niall at her apartment is quite a surprise, as is the reason he is there. Lucy is determined to protect little Tommy, and happily accepts Niall's help. Though he doesn't know it, she has had quite a crush on him. Lucy also has an ex-boyfriend who has become a problem for her.
I loved the development of their relationship. Niall is very drawn to Lucy and frequently confused by the effect she has on him. I really loved seeing his thoughts as he tried to make sense of what he is feeling. I loved his protectiveness toward both Lucy and Tommy. It was sweet to see Niall taking care of the baby. Lucy's crush has been going on for quite a while, and spending time with him now just deepens her feelings for him. I loved the contrast between his nerdiness and her bubbly, outgoing nature. They balanced each other very nicely. I loved the way that she could read him so well. It was really fun to see her explain his feelings to him, especially at the end.
I enjoyed seeing the closeness of the Watson family and their support for each other. All of them are there to be with their grandfather, who was shot at the wedding. I loved seeing how each brother dealt with things according to their personality. I also enjoyed seeing the way that they pulled Lucy and Tommy into their circle. It was something completely out of her experience, and I loved seeing her soak it in.
The mystery of the baby and his missing mother was really good. Diana is missing and someone is trying to get to the baby. I loved seeing Niall's methodical ways bump into Lucy's emotional defense of Diana. Things got rather intense when someone attacked Lucy in an attempt to get to the baby, while someone else is telling her to keep him away from everyone. A dead body adds to the puzzle. The final confrontation is a nail-biter, as Lucy and Niall try to protect Tommy and save Diana.
There is also a little bit about who the shooter was at the wedding. Someone appears to have a grudge against the Watsons and the attack at the wedding seems to be just the beginning. I am looking forward to the next book and seeing what else is revealed.