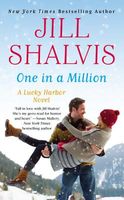 Series:
Lucky Harbor
(Book 12)
As the brains behind wedding site TyingTheKnot.com, Callie sees it all: from the ring to the dress, the smiles ... to the tears. It's that last part that keeps her single and not looking. Getting left at the altar will do that to a girl. But when Callie returns to her old hometown, she finds that her sweet high school crush is sexier than ever. And he makes it hard to remember why she's sworn off love...
Tanner is a deep-sea diver with a wild, adrenaline-junkie past -- and now his teenage son is back in his life. How can Tanner be a role model when he's still paying for his own mistakes? It's hard enough that gorgeous Callie has appeared in town like a beautiful dream, challenging his best-laid plans to keep his heart on lockdown. Though there's something about being around her again that makes him feel like he can be the man she -- and his son -- deserve. Little Lucky Harbor holds their past; can it hold a beautiful new future?
Very good book and conclusion to the Lucky Harbor series. I am really going to miss my visits there. In this book we have Callie, who left Lucky Harbor after being left at the altar by her fiance. She has come back to check up on her grandmother Lucille (yes, the social media addict and matchmaker extraordinaire). She doesn't expect to run into Tanner, who was the boy she had a huge crush on during high school, Tanner has returned with his two best friends to start Lucky Harbor Charters. This makes it possible for him to be around to help his mom, and also spend time with his teenage son. Callie is a distraction he really doesn't need right now.
I really liked both Callie and Tanner, though each certainly frustrated me at times. Callie runs a business as a wedding planner, and between her own romantic past and some of the disasters she sees in her work, she is pretty cynical about love. As a result, she has no intention of looking for a man for herself. Seeing Tanner again sends her right back to feeling like the awkward, nerdy teenage girl she used to be, and her reaction to him is even stronger now. Tanner was quite the bad boy in school and went on to become a SEAL and then work on oil rigs before coming home. He's made some mistakes in his past and is determined to make up for them. Risking his heart is not something he wants to do again.
I loved seeing their relationship develop. I loved their first meeting at the bakery. Callie is a bit klutzy and awkward, but Tanner is intrigued enough to look past it. After a couple of bakery meetings, both of them realize that there is something building between them, but both are wary of getting involved. So they insist to each other that they will keep whatever it is casual. Of course, their heads keep saying that, but their hearts have something else in mind. I loved the push and pull between them and seeing them grow closer each time. I loved Tanner's support of Callie when she encountered her ex, and his attempts to show her how great he thinks she is. I really liked the way that Callie saw Tanner's attempts at being a better man, and tried to show him that he was succeeding. Of course, with both insisting that they were only friends, finally admitting their feelings was not an easy thing to do. I loved how Cole and Sam got their chance to pay Tanner back for his "help" with their relationships. Olivia and Becca also had their work cut out to convince Callie to take a chance, but in the end it was Lucille who had the final word. I loved Tanner's big moment in the kitchen and all the helpful suggestions he got. The epilogue was a great wrap up for the book and the series.
I also loved the various secondary characters, Lucille and Troy being the most visible in this book. Troy is Tanner's son and a real chip off the old block. I loved the way that Callie connected with him so quickly, just because he reminded her so much of his father. Troy is dealing with a selfish mother who is more interested in her needs than his, and getting to know a father who has been absent through most of his life so far. I loved how he slowly realized that Tanner was there to stay and that he was there when needed. I loved the scene in the principal's office as Tanner backed Troy up. I also really enjoyed seeing how Troy and Lucille connected and became quite an interesting duo.
Lucille has been one of my favorites throughout the series, She is nosy, feisty, and determined to see the people she loves in happy relationships. It was fun to see Callie call her out on some of her antics, especially her toast ruse to get the fire department (and those hot firefighters) to her place. I had to laugh when she talked about her relationship with Mr. W and Callie's reactions. It was always a good time to see what she was posting on social media sites and the reactions she got from it. I think I will miss her most of all.