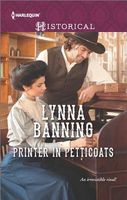 Series:
Smoke River
(Book 3)
This town's not big enough for both of us…
Self-proclaimed spinster Jessamine Lassiter is striving to keep Smoke River's newspaper afloat when Cole Sanders rides into town to start up a rival paper. Emotions run high as Cole's constant, infuriating presence causes sparks to fly both in and out of the office!
But does he truly desire Jess, or is he just waiting to put her out of business? Whatever it is he wants, she's prepared to fight him all the way…
Very good book. Jess runs the local newspaper since the death of her brother. She is determined to make a success of it, but is struggling a bit. Then Cole comes to town, bringing his own printing press and plan to start his own paper. Furious, and worried about the survival of her paper, sparks fly as soon as she confronts Cole.
I liked Jess. She's smart, independent and feisty when she's chasing down a story for her paper. But underneath it all, she has some insecurities. Her father had spent a lot of time belittling her and refusing to see her capabilities. After his death, she and her brother moved west, and he encouraged her in her dream of journalism. Her brother's murder at the hands of an angry man put the paper solely in her hands. There are times that she is deeply worried about whether she is good enough to keep the paper going. Cole's arrival just adds to those worries.
I liked Cole also. He arrives in Smoke River trying to outrun his own tragedy. Back home his editorials angered the wrong people, who took out their anger by firebombing his house. Unfortunately, his wife was in it at the time. Cole blames himself for her death and is determined to avoid entanglements with any other women. He doesn't want to risk his heart again.
I loved watching the development of their relationship. Both are determined to make their paper the best, and their rivalry spurs each on to greater efforts. There are some truly amusing ways that they try to scoop each other on various stories. I loved seeing them go from glaring at each other, to sharing breakfasts and reading each other's papers, comparing stories and methods. Things got really interesting when each of them endorsed a different candidate in the election for district judge. Jess was supporting Jericho Silver (
The Lone Sheriff
) leaving Cole to support the less popular and unpleasant Conway Arbuckle. The passion of their professional dealings soon leads to passion of a different sort. And though their feelings for each other continue to grow, both are reluctant to make anything permanent of it, thanks to their pasts.
When trouble comes to Jess because of her support of the sheriff, Cole has visions of what happened to his wife. His protectiveness kicks in, bringing them even closer together, but also reinforcing his fears. He gets a wake up call when he is kidnapped and the thought of never seeing her again makes him realize just how much he cares. Jess also realizes just what Cole means to her, but her fears are harder to overcome. I loved Cole's big moment at the end, it was perfect for who they are.
I also loved the various secondary characters. The two typesetters, Eli and Noralee, one old and one young, both watching out for their employers. I loved Rita, from the hotel restaurant, as she tried to bring Jess and Cole together, and then was puzzled by their relationship. The bits and pieces of small town life, such as the choir doing The Messiah, and the dance out at one of the ranches, all served to bring Jess and Cole together.