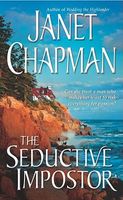 Series:
Puffin Harbor
(Book 1)
Rachel Foster wishes Sub Rosa -- the seaside mansion she helped her father build and the scene of a terrible tragedy -- would crumble into the sea. But Keenan Oakes, Sub Rosa's new owner, is moving in and stirring up the dark secrets of the cliff-perched manor....
Now, in the heat of a sizzling attraction, can Rachel clear her family's name while risking her heart on Keenan...and on a passionate love like nothing she's ever known?
Loved this book. Rachel is a former architect who hasn't designed anything since she helped her father design and build Sub Rosa, and then her parents and the owner died in a three-way lovers' quarrel. Since then she has refused to step foot in that house, until an inheritance from her father sends her scrambling. It turns out that some gifts that he and the house's owner, Thadd, had given to her and her sister were actually valuable pieces of stolen goods. Determined to protect her family's name, Rachel decides to sneak into Sub Rosa and return all the items before the recently found heir moves in. What she doesn't know is that Keenan is already there, along with his five partners in their salvage business. Their meeting was funny, exciting, and steamy.
This book was full of Janet Chapman's trademark humor and quirky characters, as well as the suspense of finding stolen art and the real story behind it. Rachel is strong, funny and very smart. She is also protective of her younger sister, Willow, and is determined to keep any hint of scandal away from her. She gives in to Keenan's "request" that she stay at Sub Rosa while she heals from an injury and also helps him settle into the house. Rachel has her own reasons for staying in the house and watching her try to carry out her plans while dealing with Keenan was hysterical. I thoroughly enjoyed seeing her win over Keenan's friends, and the scene when they found "her cat" was a riot.
Neither Keenan nor Rachel expected the immediate and overwhelming attraction that flared between them. Rachel has put all passion in her life on hold since the tragedy of her parents, and isn't happy that Keenan is bringing all those feelings back out. Keenan is completely bemused by the way she makes him feel, never having met anyone who can distract him so easily. I loved seeing the relationship develop between the two of them. Keenan is protective of those he cares for, and Rachel quickly became one of those. He is very confident in his role, and has no trouble telling Rachel exactly what to do. Rachel is equally determined and I loved seeing her stand up to him. This is something he isn't used to, and I loved its effect on him.
"What was it about her that had gotten under his skin so quickly and so completely? It wasn't just her wildly passionate nature, or even the sexy body that passion came packaged in. No, it was all of her - her courage and intelligence and spunk. It was her willingness to stand up to him, to be right in his face and smile while she did, and her loyalty to her sister that was so strong she was willing to put herself in an impossible situation. But mostly, he thought, it was her spunk."
I loved how Rachel saw past Keenan's outer caveman/demigod to the man underneath. She saw how much he loved his daughter and the lengths he'd go to for her. She felt the tenderness and caring from him, even when she knew she frustrated him with her actions and her secrets. He was the first man she'd ever felt she could truly be herself with. I loved their interactions, which were fun and romantic and frequently steamy. But both were still keeping some secrets and when one of those secrets came out, Rachel did not react well. Both Keenan and Rachel had a bit too much stubbornness and pride and it took a threat to his daughter to bring them back together. I loved how Rachel did it - it really was perfect for them.
I really enjoyed the suspense and mystery of the missing art objects. There was more going on with it than Rachel first suspected. As she uncovered more clues, she was determined to solve the problem without involving anyone else. But Keenan had different plans, and suspected that she knew more than she was telling him. I got a bit frustrated with her at times, with her reluctance to fully trust him, and loved seeing his protectiveness in spite of it. The final confrontation at the end was intense, with a couple of surprise revelations.
The secondary characters were all fantastic. I loved Keenan's five friends. The relationships among them were obviously long-standing and very close. They obviously loved and respected Keenan, but also had minds of their own. I loved the way that they all took to Rachel and saw just what effect she had on Keenan. I liked the way that they stood up for her. I also loved their relationship with Keenan's daughter, the "little tyrant". It was so sweet to see the way she had all those strong men wrapped around her little finger. As a character, Mikaela was a riot. Having spent all her life around adult men, she was not a typical little girl - except when she was trying to get her own way. She was a master at getting around them. I also loved Rachel's sister Willow. She is a strong character in her own right. The relationship between the sisters is very close, though Willow does occasionally get frustrated by Rachel's protectiveness. But she is there when needed. I loved the scene of the daiquiri party with the two of them, and the audience they didn't know they had. I also loved seeing Willow's attempt to save Rachel from the "assault" later that night - it had me laughing out loud as I read it. I'm looking forward to her story, especially considering her reaction to Duncan.