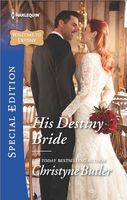 Series:
Welcome to Destiny
(Book 9)
Something about the boss
That handsome masked stranger Katie Ledbetter got very, very close to after the costume party? Yeah, that would be her boss, Nolan Murphy. Super-embarrassing, but par for the course in her ill-fated quest for love. That's when she comes to a decision to give up the romance rat race and have a child on her own.
When Nolan catches wind of her quest, the sexy single dad suggests she test out if she wants to be a parent by watching his teens while he's away. Then he comes back -- and suggests she stay. Could this be the instant family Katie's been looking for? Could she be fated to be a bride for her boss after all?
Very good book. Katie is one of those people who always seems to be unlucky in love. She is recovering from her latest disaster when she attends a Halloween costume party. There she meets a sexy pirate, and after a little too much grog the attraction that flared between them becomes irresistible. The next morning they are both horrified to realize what they've done. They decide to try to forget what happened and go on as usual, but that proves to be harder than they think.
I liked Katie a lot. She is a really sweet person with so much love to give. She was abandoned by her mother when she was three and grew up in the foster care system. She craves the love of a family of her own. She has worked for the Murphy family for five years and has been in love with Nolan for almost as long. But he's her boss, and even after their slip up, she knows that there's no future with him. She makes the decision to skip looking for a man and have a baby on her own. She knows it will be hard, but is confident that she can do it. Nolan isn't so sure, being a single parent himself, and tries to talk her out of it. When he has to go out of town on business, she offers to care for his teenagers while he's gone.
I liked Nolan too, but he did frustrate me at times. He became a single dad when his marriage didn't work out. His ex isn't much of a parent, leaving him with all the tough stuff such as discipline, dealing with teen hormones and so on. He seemed determined to emphasize the downside of being a single parent. He didn't appear to have much confidence in her ability to handle his kids while he was away, but didn't really have any other options. He was also adamant that he was done with relationships, having been burned once and not willing to risk it again. I also thought he was a bit smug about his parenting, even though he was having so many problems with Abby. I rather enjoyed seeing Katie show him up a bit when she had the care of them for two weeks.
I really enjoyed the development of their relationship. They had been friends for as long as she worked for the company. After their night together, both become constantly aware of each other,, and both fought it hard. It was a little easier when he was away, as they could ignore the sparks. But when Nolan returned things got a bit more complicated. Katie's apartment had become uninhabitable thanks to Nolan's daughter Abby. Katie ended up staying with Nolan and his kids after his return. This put the two of them in constant contact. It was fun to see Nolan get used to having Katie there, and how his mind kept drifting towards a relationship. This would freak him out and he'd pull back, but that wouldn't last long. I loved how his brothers could see what was happening and tried to help him, but he refused to listen. Katie could see herself getting more deeply involved and knew she was setting herself up for heartbreak, but she couldn't help it. There were several times when they unexpectedly found themselves opening up about their pasts. Then Katie gets some unexpected news that really throws her into turmoil. She's about to share that news with Nolan when he confronts her about something that happened with Abby that she hadn't told him. He doesn't handle it well and says some really awful things to Katie. A crisis makes him realize that he doesn't want to lose her, but it takes the combined efforts of his brothers to make him see just why he feels that way. I loved his big moment at the end, it was so sweet and romantic.
I loved the three teenagers. They all behave pretty realistically for their ages. Abby had made an appearance in an earlier book and didn't make a great impression. She had been pretty nasty to a new cousin, and came across as pretty spoiled and selfish. There is still some of that in this book, as she does some rather stupid things. The boys are pretty good and seem to really appreciate what Katie does for them. All of them really came through at the end, with their wonderfully thought out gifts for her.
There is also an interesting twist at the end, involving Katie and a new neighbor. I really liked him and would love to see him get his own story.