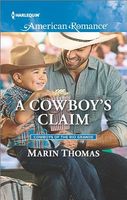 Series:
Cowboys of the Rio Grande
(Book 3)
A DIFFERENT KIND OF HERO
Everyone knows Victor Vicario -- he's the scarred loner who's on his way to the National Finals Rodeo in Vegas. But no one knows about the guilt that drives him. And until he achieves his goal, there's no room in his life for attachments.
So when Vic is given temporary custody of his young nephew, he is torn. He can't turn his back on family, but how can he look after a kid when he's traveling the rodeo circuit? Then he runs into feisty barrel racer Tanya McGee and makes her an offer. She helps him with Alex, and he'll pay her rodeo expenses. The problem is their little "family" starts to feel all too real.
Very good book. I have been waiting for my chance to read Vic's story and it did not disappoint. Vic is one of three friends who grew up in the barios of Albuquerque. All of them had rotten childhoods, but Vic wears the scars of his on the outside. These days he is a rodeo bronc rider, doing his best to make it to the Finals in Vegas. He has a goal to win, and until he does there is no room in his life for anything else. Then he gets a call that his four year old nephew needs him. He's never met the boy, but he can't ignore him. So he takes Alex on the road with him, not realizing the challenges he will face.
Tanya is a barrel racer putting in her last season of competition. Her previous season ended when she was in an accident that took her a year to recover from. She wants to end on a high note, but she is having issues with her horse and is almost out of resources to continue. A chance encounter with Vic has him offering to help her continue competing if she will help him take care of Alex.
There were times in this book, and throughout the series, that I thought Vic was really selfish. It was his actions that got his friend Cruz sent to prison (
A Cowboy's Redemption
). He also avoided his old friends and ignored their attempts to reconnect with him. In this book, his quest to make the Finals seemed to come before everything else, including proper care of Alex. Instead, he takes the boy on the road with him, spending long hours on the road, staying in different towns and cheap motels every night. But partway through the book, his motivation is finally revealed, and I felt much more sympathetic toward him. I also loved how devoted he was to helping Alex. The boy had had a very traumatic life so far, and Vic is determined to make it better. Because of his own past he has a greater understanding of his nephew and his problems. I loved his patience in helping Alex overcome his fears.
His relationship with Tanya was a complicated one. He doesn't do relationships because of his intense focus. But from the moment he met her, he hasn't been able to get her off his mind. A hookup with her right before he found out about Alex scared him with the way he connected with her. He knows he should avoid her because of the distraction, but she's also the only one he is willing to trust with Alex's welfare. As he offers her a deal, he hopes he can keep his mind on his goal. It doesn't take long before their partnership starts to show results in Alex's behavior. But Vic can't allow himself to think of a future with Tanya and Alex when he doesn't know how or when his quest is going to end.
Tanya finds it very easy to fall for both Alex and Vic. In spite of his fearsome appearance and reputation, she sees the good in Vic. She would like nothing better than a future with both of them, but she's been burned once before. She's not so sure she can trust him with her heart, but she can't stop herself from giving it to him anyway. I loved how she got him to open up to her about his past, his motivations, and his hopes for Alex. Her support of him and his goals was just what he needed.
I loved the ending as everyone came together at the Finals in Vegas. I was just as nervous as Vic and Tanya as I waited to see how the competition would go. The scene under the bleachers between Vic and Cruz was heartfelt and incredibly moving. The emotion was intense, with just the right bit of lightness added to keep it from being too much. The icing on the cake was the follow on scene between Vic and Tanya. I loved her reaction to his question, which just showed that she had no trouble going after what she wanted. I see great things for him now that he has been able to let go of the past.