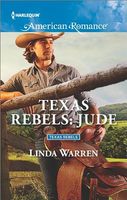 Series:
Texas Rebels
(Book 4)
Rebel Dad
The day his son was born, Jude Rebel knew he was meant to be a father. That was why he had to stop the adoption. How could he give away his own flesh and blood? For twelve years, Jude has kept his secret. Until Paige Wheeler comes home to Horseshoe, regretting the decision that changed both their lives forever.
At eighteen, all Paige wanted was to escape her Texas town and troubled, hardscrabble life. Her ticket out cost her dearly. Now she has a chance to make things right. Finding out Jude has been raising their child is only the beginning. Is it too late for forgiveness? Or have they all been given a second chance?
Good story of second chances, redemption, and family. Paige and Jude had been high school sweethearts, but their futures were set on different paths. Jude loved his family's ranch and had no desire to go anywhere else. Paige had a miserable home life with an emotionally abusive mother and couldn't wait to get out of Horseshoe. She has a scholarship for medical school and can't wait to use it. Then she finds out she's pregnant.
Both Jude and Paige are young and know that they aren't ready to be parents. Paige is especially scared because of her mother. She takes her worries to her school counselor, who encourages Paige to consider adoption. Paige constantly asks for Jude's thoughts, but gets no real response. Jude has plenty of thoughts, but never expresses them to Paige, feeling that he has no right to ask her to give up her dreams. But when the baby is born and they've signed away their rights, Jude is torn. He says goodbye to Paige, but then makes the decision to cancel the adoption and raise the baby himself.
It isn't easy, but he has the help and support of his family. Zane is the center of Jude's life, and he will do anything to keep him safe and happy. Then after twelve years, Paige comes back to Horseshoe for her mother's funeral. She has been haunted by her decision for years, and wants to find out what happened to her child. Jude isn't happy, but knows he has to tell her the truth. He also knows that his son's happiness comes first, and it's up to Zane to decide what he wants to do.
This was a very emotional book, as three people had to deal with the consequences of a decision made long ago. There were things I did and didn't like about the ways they went about it. I loved Jude's devotion to Zane and the way that he stepped up and took responsibility. Though he had help from his family, he was Zane's father and the main caregiver. However, I had trouble with his lack of communication with Paige, both in the past and present. Back during her pregnancy, he never spoke up about his feelings and what he thought was the right thing to do. He just went along with her decisions. When he went and got the baby, he never tried to reach her and tell her what he had done. When Paige came back, he still wasn't the most communicative. He did tell her some of what he felt, but wasn't always as open as he should have been.
Paige had had a miserable life at home. It left her with some real problems with her self esteem. Because of her mother's attitude, Paige didn't feel that she could bring a baby home, which left her vulnerable to a counselor who had her own agenda. When Paige came back and told Jude what it had been like for her after she left, I completely understood Jude's anger. She had wallowed in her misery, never bothering to even call Jude and tell him how she felt. Of course, when she found out that Jude had been raising Zane, she wanted to meet him. She wasn't happy about Jude's resistance, and proceeded to still beat herself up about her past actions. I wanted to shake her and tell her to snap out of it.
Then there was Zane. He's a really smart, happy kid. He's enthusiastic about the things he likes. He's been curious about his mother, and Jude has been honest with him about what happened. But he's still only twelve, and it rocks his world when he finds out about Paige. I ached for Paige when he refused to have anything to do with her, but had high hopes that his better nature would win out. His was the part I liked most, as he worked his way through his feelings.
Paige and Jude also discovered that the feelings they'd had as teens had not gone away. Neither had their old ways of dealing with things. Jude knew that Paige had to go back to California to finish her training, and did not talk to her about it. Paige had to make a decision about her future, and didn't talk to Jude either. So much angst could have been avoided if they had just talked to each other. They nearly blew it again, but finally had the courage to confront their fears. I did like the way that they worked things out.