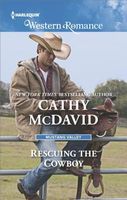 Series:
Mustang Valley
(Book 8)
WRONGED MAN. RIGHT WOMAN?
After three years of wrongful imprisonment, Quinn Crenshaw is ready to rebuild his life and find the daughter he has never met. A job training horses at his cousin's Arizona cattle ranch becomes something wonderful when Quinn meets Summer Goodwyn and her special-needs little boy. The single mother believes in him…and is raising this former rodeo champion's spirits sky-high!
The equine therapy program is helping Summer's young son connect with others -- including one super-attractive rancher determined to be a father to his own little girl. Despite the obstacles in their path, can she make Quinn see they have a future worth fighting for?
Very good, very emotional story. Quinn has been released from prison after new evidence proves him innocent of the charges. His cousins have offered him a job on their ranch, training horses for them. It gives him a chance to rebuild his life. He also discovered that his former girlfriend had been pregnant and never told him. He is trying to find her, determined to be a father to his little girl. While waiting, he meets Summer and her autistic son, Teddy.
Summer is a single mother with her hands full. Teddy is severely autistic and a participant in the ranch's equine therapy program. She is surprised by how quickly Teddy connects with Quinn - and he isn't the only one! She's been cautious about new relationships, but something about Quinn tells her she can trust him.
I really enjoyed seeing the relationship grow between them. Both of them are wary, having been hurt before, but the connection between them can't be denied. Because of what he has been through, Quinn has become much more patient, which becomes obvious in his dealings with Teddy. I loved seeing his patience and mellow demeanor have a calming effect on the little boy. His obvious care for Teddy was also one of the things that made Summer fall for him. At the same time, Summer sees past the ex-con label that Quinn is stuck with to the man he really is. She sees the tender and sensitive side that others do not, which helps Quinn believe that a future is possible for them.
My heart ached for them both, but especially Quinn, when his past comes back to bite him. It underscored the difficulty that people like him have when they resume life on the outside. I was really disgusted with Summer's ex and his attitude, and loved his new wife's actions. He also had the whole situation with his daughter and her mother to deal with. I didn't care for Jenny at all, with the way she flip-flopped back and forth. I really understood Quinn's desire just to chuck it all, even though he hated the idea of leaving Summer and Teddy.
I loved the support he received from his cousins throughout the whole story. I really liked the way that they stood with him during his problems with the parents. Best of all was how they found a way for him to have everything work out for the best possible outcome.

*copy received in exchange for honest review