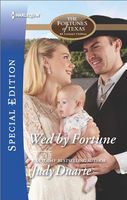 Series:
Fortunes of Texas: All Fortune's Children
(Book 6)
You are cordially invited
to witness the courtship
of Graham Fortune Robinson
&
Sasha-Marie Gibault Smith
Graham has always thought of Sasha as his "little sister."
Sasha has always considered the rugged rancher out of her league.
Now that Sasha is all grown up, there is nothing keeping them apart… Except she has a daughter. An ex-husband. And a very noticeable baby bump. And the always proper Graham suddenly finds himself thinking very sexy thoughts about the sweet single mom!
Perhaps Fortune is finally smiling on Graham -- in the form of the true love this rich, unencumbered cowboy has always longed for!
Good conclusion to this year's Fortune series. Graham works on the Galloping G ranch with his best friend's father, as they turn it into a place for at-risk boys. Sasha has returned to her uncle's ranch after the end of her marriage, hoping for a place to raise her daughters and to repair her relationship with her uncle.
I loved Graham. He's one of the Robinson side of the Fortune family, and sort of a black sheep. He wants nothing to do with his father's business, in spite of his MBA. He's much happier ranching and helping turn the ranch into a place for at risk boys. When he was a teenager, he and his friend Peter made some bad decisions during their rebellious phase. Peter died because of one of those decisions, which sobered Graham right up. Since then he has joined with Peter's father to make the ranch a tribute to Peter. He remains at odds with his own father. Graham was surprised to hear that Sasha was coming back to the ranch, and even more surprised when he saw her. He remembers her as the little girl who used to be a pest, but she's a beautiful woman now. She also has a daughter and is pregnant. Graham is also determined to make a difference to the boys who come to the ranch. I loved seeing how good he was with them, just the right mix of discipline and friendliness.
I liked Sasha too. She had married a man she thought she loved, even though her uncle didn't like him and said that he wasn't what he seemed. This caused a rift between them, not a total break, but certainly plenty of awkwardness. She hopes that she can mend their relationship while she's there. When she arrived she was surprised to see Graham there. She had had quite the crush on him when she was a teenager, and she discovers that he still has the power to stir her. Her seven year old daughter Maddie also falls under his spell.
I really enjoyed the development of their relationship. They quickly slid back into their old friendship, but this time there was an added zing to it. However, both of them have some relationship insecurities. Graham thinks that there is a good chance that Sasha will end up going back to her husband, so he's reluctant to risk his heart on her. He thinks she still loves him, plus they have the two kids. That doesn't stop him from thinking about the possibilities and wishing they were real. Sasha also has her doubts. She doesn't think that a rich cowboy like Graham could be interested in a single mom like her. A couple of hot kisses have them both thinking toward the future, until a visit from Sasha's soon-to-be-ex occurs. Graham jumps to conclusions about the visit, cutting things off with Sasha in a very confusing (to her) phone call. She jumps to some conclusions of her own, and blows off some steam at him. It takes a determined little girl to get them to actually talk to each other, with the expected happy results.
Through the series there have been two ongoing storylines. The first is the question of whether or not Gerard Robinson is really Jerome Fortune, and whether he'll ever admit it if he is. The previous book had him telling his story to his daughter Zoe, though some of the kids are skeptical. In this book the truth is finally revealed. The second one is the decision by Kate Fortune to look among her relatives for someone to take over as CEO of Fortune Cosmetics. She has been visiting them all, looking for her ideal. She shows up at the ranch to talk to Graham and gets a tour of the ranch. I loved the real interest she showed. At the end of the book she makes her decision and it really is perfectly done.