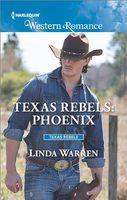 Series:
Texas Rebels
(Book 5)
THE COWBOY'S LAST RIDE
Once he gets over the shock of finding out he's a father, Phoenix Rebel is ready to do right by his toddler son. The gorgeous barrel racer he runs into on the circuit could add a much-needed woman's touch. There's just one problem. She's a McCray -- a Rebel's worst enemy.
Rosemary could gaze into Phoenix's warm brown eyes forever. And helping the sexy bull rider and his adorable two-year-old has ignited a fierce yearning in Rosie. Somehow she and Phoenix have to find a way to create their own family -- even if it means leaving everyone else they love behind…
Very good book. Phoenix is the youngest of the Rebel boys and the one best known for his fun-loving ways. So it comes as quite a surprise to him to find out that he is the father of a two year old little boy. As unprepared as he feels, a Rebel doesn't run from responsibility, and Phoenix steps right up.
I have to say right off that I loved the way that Phoenix jumped right into being a dad. He connected very quickly with little Jake and I loved how he understood Jake's separation anxiety. He could very easily have accepted the offers of various family members to help him out, but he understood Jake's fear and was determined to be there for him. I also understood his frustration with the way his family seemed to think he wasn't capable of caring for Jake. It added to his determination to do it himself.
Phoenix had been aware of Rosie for awhile, but because she was a McCray, he ignored her just as she ignored him. But an encounter while parking their trailers brought them into closer contact and sparks flew between them. Their next encounter had Phoenix asking for her help in shopping for things for Jake, and Phoenix's fascination with her grew.
Rosie had grown up with the feud between the families, but had had problems of her own to deal with. Her father had forced her to marry an older man who would help with the family finances. The man turned out to be abusive and had beaten Rosie so badly at one point that she lost her baby. Since her divorce from him her father had disowned her and she'd had no contact with her family. Seeing Phoenix's son brought back her grief, but also brought some light back into her life.
As she and Phoenix began to spend more time together, their feelings grew stronger. As long as it was just the two of them with little Jake, everything was fine. The love they shared was obvious and they were the perfect family for Jake. But the feud between their families was always hovering, ready to take the joy out of their lives. I really enjoyed seeing Rosie face down her father and brothers and make it clear that she was done with them. There was a brief moment of support from the brother whose son caused problems in the previous book. Meanwhile, Phoenix had been avoiding telling his mother about Rosie because of her own attitude toward the McCrays. I have to say that for most of this book I really didn't like Kate much at all. Because she didn't want to tear Phoenix away from the family he loved, Rosie tried to break things off with him.
Just as Phoenix is really settling in to being Jake's daddy, Jake's mother suddenly comes back into the picture. There were some scary, stressful days as Phoenix worries about losing custody of the son who has come to mean so much to him. The scene in the courtroom was fantastic, with the new Phoenix really shining.
But it still left the relationship between Rosie and Phoenix in limbo. I loved Phoenix's determination that he would marry Rosie no matter what. I especially enjoyed his grandfather's straight talk to Kate and his unwavering support of Phoenix. There were some intense moments there in Vegas as everyone waited to see what Rosie would decide. I loved the ending and seeing the little family finally have it all.