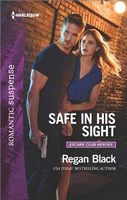 Series:
Escape Club Heroes
(Book 1)
The stalker shadowing lawyer Julia Cooper's every move is vowing to ruin her life -- unless she discloses information about a major criminal case. For discreet help, she turns to the shadowy Escape Club, where investigative brainpower and brawn are for hire. Mitch Galway, a firefighter on leave, becomes Julia's round-the-clock bodyguard. All sculpted biceps, sexy bravado and conflicted past, Mitch works overtime to uncover the identity of the person hunting her. But as they track the creep getting way too close, Julia must share more of herself with the intriguing man protecting her…which puts them both high on a lunatic's hit list.
This was an exciting and intense book. Julia is a new hire at a prestigious law firm, and is assigned as part of the legal team on a major case. She has begun receiving threatening texts from a stalker who wants sensitive information on the case. Unable to go to her bosses or the police, she goes to the Escape Club for help. Firefighter Mitch Galway is assigned to be her bodyguard.
There are sparks between Mitch and Julia from the beginning, even though they don't want to admit it. Mitch has had a relationship go bad because he got involved with a rescuee, and he doesn't want to risk that again. Julia was betrayed by a previous boyfriend because of her past, and she feels safer being on her own. I loved seeing Mitch's protectiveness grow into something more as he got to know Julia better. There were some really sweet scenes as he worked his way past her protective walls and got to know the vulnerable woman under the shark-lawyer facade. Julia had spent so long depending only on herself that she wasn't sure what to make of Mitch. I ached for her as she kept expecting him to pull away from her. I loved seeing her get absorbed into Mitch's family, and her horror at the events that happened during Sunday dinner reinforced her idea that she was no good for him. It doesn't take long for Mitch to be sure of his feelings for Julia, but he also knows that if he rushes her it will ruin everything. It was fun to see him try to pull himself back. Julia also suspects her feelings, but is afraid to risk her heart again. I really loved seeing them come together in the end, especially Julia's willingness to believe in a future together.
The suspense of the story was really good. We find out quickly who the stalker is and what his motivation is. The big question is why he fixated on Julia. The intensity of the story kept going up as the stalker increased the pressure on her to cooperate with him. You never knew just what he was going to do next, and each new threat increased the tension. I thought the car bomb was bad, but the final confrontation really had me on the edge of my seat. I loved seeing Julia's part in it and how she stood up to him. The epilogue was a nice wrapup for the things that had been done to her. I do wonder if we'll see that hacker again.
Julia's job situation was left hanging a little bit. I admit that I did not like her boss at all and would love to see her use her talents for someone else.