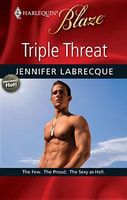 Series:
Uniformly Hot
(Book 3.5)
Subject: Airborne Captain Eli Murdoch.
Current status: Ready and raring to go!
Mission: Serve his country.
Obstacle: Sexy Tara Swenson. Impossible to resist.
Weddings are a minefield for Eli Murdoch. Each time he goes to one, he falls into bed with the same woman--Tara Swenson! But a relationship between a footloose soldier and a homebody can never work. Can it?
Tara can't seem to keep her panties on and her legs together around her former high school crush. But she wants more than wham bam, thank you ma'am. Although Captain Hard Body is very good at that!
When he returns for a third wedding, Tara's faced with a man trained to outmaneuver her! So she makes the first offensive move. Directly into Eli's very willing arms...
Very short story, only 49 pages, so not a lot of development. Eli and Tara have known each other for several years. Tara moved to Jackson Flats as a teenager and instantly developed a crush on senior ROTC Eli. Of course, he never noticed her, being so much younger. They encountered each other at a friend's wedding and the chemistry between them was off the charts. But Eli was focused on his career, not starting a relationship, and they didn't see each other again until another wedding two years later. Second verse, same as the first. This time, Eli skedaddled quickly, and again there was no contact for about two years. Now there is a third wedding in the offing and both are determined not to let history repeat itself.
So much for good intentions. They weren't in each other's company more than an hour before the steam started rising. Back into bed they fell. But Tara wants more from Eli than hot sex every couple of years and she begins making her wishes known. Eli has avoided relationships, feeling that they don't mix well with a career that can have him gone more than at home.
I felt that Tara was a bit more mature than Eli. She knew what she wanted and wasn't afraid to say so. I felt bad for her when she declared her feelings for Eli and got nothing in return. Eli came off as rather selfish, only interested in hooking up with her when he was in town, then ignoring her the rest of the time. It wasn't until the end that we discover that he is simply scared by the strength of what he feels for her and doesn't know how to deal with it. He was rather a horse's ass on the trip to the airport, and I loved seeing Tara rip into him. He saw the light almost too late, but managed to redeem himself. I liked that the epilogue showed that they waited six months to get married, and presumably had much better lines of communication during those six months.