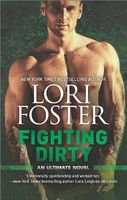 Series:
Ultimate
(Book 4)
With the life he's led and the muscles he's gained, Armie Jacobson isn't afraid of anything. Except maybe Merissa Colter's effect on him. It's not just that she's his best friend's little sister. Fact is, she deserves better. Women pursue him for one night of pleasure, and that's all he wants to offer. Until rescuing Merissa from a robbery leads to the most erotic encounter of his life.
Good girl meets bad boy. It's a story that rarely ends well. But Merissa is taking matters into her own hands. No matter how he views himself, the Armie she knows is brave, honorable and completely loyal. And as past demons and present-day danger collide, they're both about to learn what's truly worth fighting for…
Really good book, my favorite in the series. Armie has been a big part of the previous books and I have been waiting anxiously for his story. It was definitely worth the wait. Armie, Cannon Colter and Merissa Colter have all been friends since high school. Armie had a horrible home life, but got experience with a good family through his best buddy Cannon. Merissa has been in love with Armie ever since. Armie has been interested in her too, but as his best friend's little sister, she's off limits. He also feels that she's way too good for him.
I loved the interactions between Armie and Merissa. He is determined to keep things in the "friend zone" and she has become equally determined to shake him out of it. Armie has been known for his way with the women, mostly one night stands, and has a pretty wild reputation. It seems that the more he fights his feelings for Merissa, the more he needs the distraction. Merissa does her best to tempt him, but lately has been getting a little discouraged. When Armie helps foil a bank robbery at the bank where Merissa is a manager, his protective instincts go into overdrive. Because he is so intent on hiding his feelings for her, he's shocked when Cannon tasks him with helping her through her reactions, since Merissa doesn't want Cannon hovering. I loved the way she went to him for comfort that evening, and Armie's struggle to do what was right. There's a great scene the next morning involving a magic marker, a workout at the gym, and what happens in the shower. It had me laughing out loud as I read it.
Armie has been content to keep his fight bouts local, but had been getting pressure from Cannon and others to sign on with SBC. He finally agrees, but then starts to worry. He has some trouble in the past that he's afraid is going to get resurrected because of his growing popularity. Much of what he has experienced in the past has made him who he is today. I loved seeing how good he was with the kids at the rec center, and the interest that he took in Bray. He truly believes that his past makes him completely unworthy of Merissa.
Merissa has always been part of the group of fighters at the rec center. She is comfortable with them and they are all great friends. I've enjoyed seeing her friendships with the women who have claimed the other fighters. There's a hysterical scene where the ladies go shopping at a particular store and find their men waiting for them when they come out.
I loved the development of their relationship. When Armie finally gives in to Merissa's pursuit, he's stunned by the strength of their connection. He's also worried about what her reaction will be to the trouble in his past. I was very happy with his decision to tell her, and loved his reaction to her response. I was a bit disappointed by his desire to keep their relationship secret, though he did have his reasons. It was also fun to see all his worry about Cannon's reaction and what that reaction really was. Merissa was so happy when they finally got together that I couldn't help but smile for her. Because she's already familiar with the fight world, she is able to fit easily into his life. She wasn't happy about keeping their relationship quiet, but was hopeful that he would relent soon. She is very independent, so it was hard for her to let him protect her and worry about her. Armie becomes convinced that she's in danger because of him and tries to pull away to protect her. Merissa has an unusual reaction and I liked seeing how they dealt with it. When it's all over, their relationship is stronger. I loved their big moments at the end, and how it was Merissa with the last word.
There was a suspenseful edge to the book as there were two negative things going on. With Armie's increased visibility, the trouble in his past is coming out, and he has to find a way to deal with it. Merissa is also having problems with an ex-boyfriend who isn't happy that he's been cut loose. He goes all stalkerish, going overboard and dangerous in his attempts to get her back. I liked how everyone comes together to help protect her. When his attempts get out of control, it's Armie and company who save her in an intense and satisfying scene.
As always, there is plenty of involvement of characters from previous books. Cannon, Denver and Stack all had their parts to play. The relationship among all the guys is always fun to watch, with their teasing and testing, but they are always there for each other when needed. There was also involvement of Detectives Baredon and Riske, and Rowdy from the previous series. Earlier characters from SBC books were part of Armie's new team. There was also the introduction and tease for the next series of books, starring Leese and his friends. Can't wait!