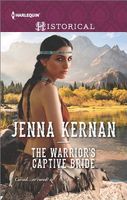 His wife for two moons…?
Plagued by a mysterious sickness, Crow warrior Night Storm captures the witch he believes cursed him. But his anticipated revenge dissolves when he realizes that beautiful Skylark might be the only one who can provide a cure…
Skylark agrees to pose as Night Storm's wife so she can find a way to heal him. But when an unexpected desire flares, Sky's mission changes and she'll do everything in her power to find a way to make their arrangement last a lifetime!
Intriguing book. Skyark is a medicine woman with her Crow tribe. She's out gathering plants when she is spotted by Night Storm, a warrior from a neighboring tribe. He is drawn by her beauty, and even though he is promised to another, wants to make her a second wife. Before he can spirit her away, he is struck by a mysterious illness. Several months later he sees her again, this time convinced that she's a witch who has cursed him. Fortunately, he quickly realizes his mistake, and instead tries to convince her to help him.
Sky is a loner within her tribe, focused on her healing talents. She'd like a husband and children, but none of the men seem interested in her. She is fascinated by Storm when she meets him, but has no intention of playing second fiddle for any man. When she learns of his illness she is willing to help, but not too happy about the method.
Because he is a warrior, Storm refuses to reveal his illness to anyone. To cover for her presence he suggests that Sky return to his camp as his bride until he is healed, and then they will part. She agrees, since she won't remain with a man who puts her second. But neither of them realizes the depth of their attraction to each other. As they work together to deal with Storm's problem, they grow closer and no longer wish to part, but there are obstacles to making that happen.
Though I understood his reasoning, there were times when I felt Storm's stubborn refusal to face the truth was somewhat selfish of him. He never knew when an attack would happen, which put others at risk. He was also so focused on being a warrior that he couldn't see that there were other options. He also had quite a blind spot regarding his intended. He was so intent on keeping his promise to marry her that he couldn't seem to see what a nasty person she was. I loved seeing him grow to love and value Sky, but his tunnel vision frequently frustrated me.
Sky has her own issues to deal with. Though she is an excellent healer, she doesn't have a very good opinion of herself. She thinks that everyone believes her to be "odd" which is why she isn't courted. She doesn't seem to see that she tends to push people away. Though reluctant to go with him, I liked how she wanted to help Storm. I liked the way that his mother and sisters welcomed her, though she felt guilty about deceiving them about their marriage. I would have liked to see her show a bit more backbone when dealing with the other woman. I felt especially bad for her when her healing arts were turned against her by the tribe's shaman.
The tension really began to pick up when Storm went on the raid and had another episode. Between that and finding Sky gone when he returned, he realized that his life was not going as he had planned. The events that happened as he chased after her, were really intense. I loved the difference in attitudes between the shaman of his tribe and that of hers. I ached for Storm as he had to face what seemed to him to be an impossible future. His discussion with Sky's shaman was a real eye opener, and he struggled to accept the truth. As he went through that process, Sky had to wait to see if there was any hope of a future for them. It was a struggle for her to maintain hope. I loved the scene at the end as he accepted his fate and his vulnerability as he hoped that Sky would still be his. The final chapter was a great wrap up.