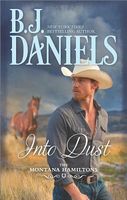 Series:
Montana Hamiltons
(Book 5)
He's meant to protect her, but what is this cowboy keeping from her about the danger she's facing?
As the daughter of a presidential candidate, Cassidy Hamilton left the Montana family ranch to escape notoriety and live her own life. But when someone tries to abduct her off a Houston sidewalk, Cassidy finds protection in the tall, dark and sexy form of cowboy Jack Durand. The gorgeous Texan doesn't recognize her, wants nothing from her and is determined to keep her safe.
Jack hates keeping secrets from the beautiful Cassidy, but he knows more about her kidnapping attempt than he's admitting. Forced on the run, Jack and Cassidy begin piecing together a jagged family puzzle, exposing a plot years in the making -- one that will either tear them apart or bring them closer together than ever.
Another very good entry into the Montana Hamiltons series. This one centers on Cassidy, one of the twin sisters who are the youngest of the family. She has been staying as far away from her father's campaign for president as she possibly can. While walking to visit friends, she is attacked and nearly kidnapped. If not for the action of a passerby, she would have been in trouble.
Jack was not exactly there by chance. While visiting his mother's grave, he had seen his father hand cash to a suspicious looking man. Worried about what his father was mixed up in, he followed the man, and was there to see him attempt to kidnap a young woman. Jack rushes in to save her, and determined to keep her safe, they go together to see if Jack can discover what his father is up to. What they find out is that Jack's dad isn't who he thought he was, and was mixed up with Cassidy's mom years ago.
As Jack and Cassidy try to evade the people who are after them, the sparks fly between them. The intensity of the danger they are in draws them closer together. I liked the support they gave each other as they learned more about what their parents were/are involved in. Their love happens quickly, but all does not go smoothly. They are captured twice, and the second time separates them for what seems like forever. Though they do come back together, because of the actions of Prophecy members, they don't remember each other. The romance part of the story felt unfinished because of it. I hope the next book gives them their HEA.
The series storyline, involving Sarah Hamilton's apparent return from the dead, continues to reveal new bits of information. More members of the group, The Prophecy, are introduced and their fanaticism exposed. There are some truly nasty people at work and it still hasn't been revealed just what their plan is. As Sarah regains some of her memories, she is more certain she wants no part of what they have planned. But because of threats to her family, she is forced to comply with their demands. It will be very interesting to see how this all works out in the end.
There was also some time spent with Sheriff Frank Curry and his wife Nettie. Frank is still dealing with the psychopathic young woman who is bent on killing him. We get more evidence of just how evil she is and her determination to have her revenge. I really thought she was going to succeed this time, but all worked out for the best.
I'm really looking forward to the next book and seeing what everyone does.