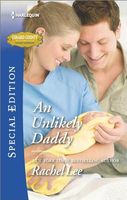 Series:
Conard County: The Next Generation
(Book 30)
In love with his best friend's wife…and baby
Keeping a promise to a dead man isn't easy. But Ryker Tremaine is determined to keep his word and make amends to his late friend's wife. When Ryker meets lovely, pregnant Marisa Hayes, she's still grieving. She doesn't believe the official report of her husband's death. And Marisa believes Ryker has the answers she craves.
Bound by secrecy, the hunky CIA operative tries to help Marisa find a sense of normalcy…and uncovers a sizzling attraction! As Ryker discovers the richness of life back on the grid, old secrets threaten. Marisa still seeks answers and Ryker knows if he tells her the truth about her husband's death -- and his role in it -- Marisa and her baby may be lost to him forever…
Good story about grief, acceptance and moving on with your life. The book opens with Marisa at her husband's funeral. She has lots of questions about his death, but no one is answering them. She's also recently found out she's pregnant. Six months later, she is still swimming in her grief, taking things day by day, and looking forward to the birth of her baby. Then she receives a visit from Ryker, a friend and coworker of her husband's.
Ryker had promised John that if anything happened, Ryker would check on Marisa. It has taken six months, but he can now keep that promise. He's reluctant to face Marisa because he feels guilty that he got John that job in the first place. His guilt only increases when he finds out she's pregnant.
When Ryker first arrives, Marisa isn't particularly welcoming. Ryker can't, or won't, answer her questions about John's death, and his appearance resurrects the pain. But Ryker won't give up, and insists on helping her. I really liked Ryker. He has some hard edges because of what he does, but he has some pretty sweet and sensitive moments, too. I loved seeing him rub her feet, and bring the Christmas spirit back into her life.
I really liked seeing the relationship develop between them. After her initial antagonism, Marisa invited Ryker to stay at the house. Being together all the time, both Ryker and Marisa realized that they were attracted to each other. Both of them resisted at first, both with feelings of guilt. Ryker didn't feel right wanting his friend's wife, and Marisa felt that she was betraying John. I loved the fact that they faced those feelings and talked about them before taking action on their feelings for each other.
Besides the guilt he was feeling, Ryker is also experiencing a normal life for the first time in a long time. I loved watching him enjoy the simple things in life again and start to question the direction his life has been going. He began to dream of having Marisa and the baby for his own.
Then Marisa receives a visitor who reveals stunning news about her husband and his death. As she deals with the feeling that she never really knew him, she also has to deal with the knowledge that Ryker knew these things all along. Once she got over the shock, I loved her attitude. I also loved how the knowledge also freed her from her grief. It also had quite an effect on Ryker, and helped him make a decision that would change his life.
As always, the Conard County community is there for its members. I loved Ryker's encounter with the sheriff. It was also great to see Marisa's friends embrace Ryker too. I especially enjoyed Julie's attitude toward him, both warning and encouraging him.