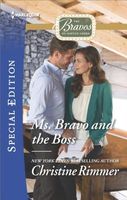 Series:
Bravos of Justice Creek
(Book 5)
BEAUTY AND THE…MAN WHO'LL NEVER LET HER GO
Elise Bravo needed a job, desperately. And soldier turned thriller writer Jed Walsh burned through -- almost literally, it turned out -- assistants like hellfire through brimstone. Turned out he had some…unusual work habits to go along with his giant talent and ego. He threw knives to relax. He cleaned his guns as he acted out scenes. And more than anything, he hated cats…
Enter Elise, crack typist, master plotter and perfect for the live-in job in every way but one…two if you counted Mr. Wiggles, her furry companion. For though Jed had sworn he would never get "involved" with a woman who worked for him, it took only a day or two with the perfectly professional, pencil skirt -- wearing Bravo beauty to realize that his interest in Elise broke all the rules. He had to make her his -- even if he had to win over her kitty to do it…
Very good book. Elise has had some really bad luck lately, compounded by some bad decisions. Most recently, her catering business burned to the ground and her business partner decided to move on. There was insurance money, but half went to her partner, and Elise used hers to pay off her debts. Her finances are especially tight because she had made the decision to loan money to two "friends" who then declined to pay her back. So in order to make the money to restart her catering business she has been doing odd jobs for several of her sisters. Then one of her sisters tells her that thriller writer Jed Walsh is looking for a new assistant and is paying top dollar.
Jed is a very interesting man. Raised by a survivalist, he then did some time in the military before turning to writing. He dictates his writing to a typist and has very exacting demands. He also has some very interesting quirks, such as knife-throwing and gun cleaning when he's working through a rough patch. He'd had the perfect assistant, but she left to be near her grandchildren almost a year before. Since then he has acquired a reputation for being impossible to work for. When Elise shows up at his door, he's pretty much reached the end of his rope.
I loved his "interview" with her, and how he was pretty blunt about his requirements. It was really amusing to see her deal with each of his demands, then make a few of her own, including that she would only work for him for the length of this book. Jed was also very up front with her that he was attracted to her, but that he had no intention of doing anything about it. He doesn't want to screw up a potentially good thing. I loved her first day at work and how she had no trouble keeping up with him and dealing with his attitude. By the end of her three day trial period, Jed had decided that not only was she perfectly suited to his needs, he wasn't going to let her go,
It didn't take long for their professional relationship to turn to friendship. For all his gruff and grumpy exterior, Jed is actually a pretty sensitive guy. When Elise had a meltdown over the problems she'd been having, Jed did an awesome job of comforting her. That comfort also underscored the heat that had been building between them. It doesn't take much longer before their "professional only" vow goes up in smoke. I loved seeing how suited to each other they were. Jed shows Elise that she is beautiful just as she is. And I loved seeing her challenge Jed's rigid ways and even help him with his writing. It was also really sweet to see how the guy who says he hates cats had a "catio" built for Mr. Wiggles.
However, there were problems ahead. In spite of Elise's statement that she would only work for him for the length of this book, Jed is determined that she will stay with him. He completely ignores every indication that she is perfectly serious about it. Then he has the nerve to be mad when she goes ahead with plans to restart her catering business. I loved seeing Elise take her reinvigorated self-confidence and explain to him exactly what his problem is. Now it is up to Jed to decide how to go about getting Elise back in his life. I loved his wedding crasher scene and his oh-so-sweet and vulnerable moment with Elise as he tried to tell her how he felt. I'm looking forward to seeing more of them in later books.

*copy received in exchange for honest review