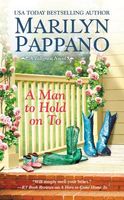 Series:
Tallgrass
(Book 2)
A MAN TO HOLD ON TO
Therese Matheson doesn't know if she'll ever get over losing her husband in Afghanistan. Surviving Paul's death has been hard, but raising his sullen son and his thirteen-going-on-thirty daughter alone has been even harder. All they need is a fresh start, and Tallgrass, Oklahoma, could be the perfect new beginning . . . especially when Therese meets Sergeant Keegan Logan. The sexy combat medic and single dad soon awakens a desire she'd thought long buried.
Keegan always wanted to be a father . . . someday. So when his ex-girlfriend disappears, leaving her daughter in his care, Keegan's hands are tied. He has to find the girl's father. His search leads him to Tallgrass and to a beautiful brunette widow who has no idea her husband was ever unfaithful. What begins as a friendship soon ignites into something far more and gives him the courage to be the kind of man-and father-he always dreamt he could be. But his secret still stands between them. Can Keegan reveal the truth and convince Therese they share something too special to lose-a love that can bring two families together?
Good book with a very realistic feel to it. Therese is a member of the Tuesday Night Margarita Club, also known as the Fort Murphy Widows Club. Like her friends, her husband was killed in Afghanistan, and she is left to pick up the pieces. In her case, she also has custody of his two children, a sullen eleven year old boy and a bratty thirteen year old girl. In the first book,
A Hero to Come Home To
, there were glimpses of what she has been going through with them. At the beginning of this book, Therese wonders if it would be better to give up custody and give the kids back to their mother or into foster care. She feels like she has failed them and her husband, and they might be better off with someone else. When the kids return from a week with their mother, her stress goes even higher.
Keegan is caught in a dilemma. His ex-girlfriend has disappeared, leaving her three year old little girl behind. Keegan is listed as little Mariah's father on her birth certificate, but he isn't. Sabrina had had an affair with a visiting army officer, and the child is his. Keegan isn't ready to be a father, especially to someone else's child, so he goes hunting for her real father. He arrives in Tallgrass, only to discover that the man is dead and his widow has no clue about Mariah's existence. He isn't sure whether he should tell her and leave Mariah with her or find something else to do with the child. But there's something about Therese that draws him in and he decides to stick around for awhile.
Though there is attraction between them from the very beginning, the relationship between Keegan and Therese begins as friendship. Keegan is at a complete loss as to how to deal with Mariah, and Therese steps in to help him. I loved the scene when Keegan shows up at her house with a screaming Mariah and a desperate plea for help. He has kept an emotional distance from the child and that has had the expected result on their relationship. It was sweet to see Keegan grow into the role of father to Mariah. There were several really adorable scenes between the two of them. Though Keegan had briefly considered making up to Therese as a prelude to dumping Mariah on her, that idea doesn't last long. He's far too interested in Therese herself, even though he has no interest in a relationship. Therese is surprised to find herself attracted to Keegan. It raises a bit of conflict in her since she feels slightly disloyal to her husband because of it, but she also likes feeling alive again. She's not interested in a relationship with another military man, but a fling might be enjoyable. She doesn't expect to start feeling something more for him. I liked seeing them move from friendship and mutual support to exploring what is growing between them. Their dates were pretty sweet, and the increasing heat was terrific. As they grew closer, Keegan felt guilty about keeping the truth about Mariah from Therese, but didn't know how to tell her without risking their new relationship. When she does find out, she is hurt and angry. I loved seeing how she worked through her feelings and her attitude when she did. I felt that it was realistic, without making her husband out to be scum, but not letting him completely off the hook either. I felt that the relationship between she and Keegan became stronger because of it.
Therese's two stepchildren were really interesting. In the previous book both came across as total brats and I wanted her to toughen up on them. When they arrived back from their visit to their mother, there were some positive changes in Jacob. He seemed to be coming out of his funk a little bit, treating Therese with a little more respect. I liked seeing the little things he started to do and their effect on his relationship with Therese. Abby, on the other hand, came back with even more attitude than when she left. I really understood Therese's horror at her appearance, and loved how she dealt with it. It was great to see Therese stand up to the little tyrant. I was completely amazed at the difference in her attitude when little Mariah was around, and began to hope that maybe things would get better. As the book went on, I liked seeing the improvement in the relationships between the kids and Therese, and the hope it gave Therese that things would work out with them. The surprise arrival of the kids' mother, and what she wanted threw everything into upheaval. I ached for Jacob and was happy to see that Keegan was able to help him. Abby had mixed reactions, and I wondered how things were going to go. I also ached for Therese, who was kind of getting what she had wanted but who realized that maybe she didn't want it after all. The kids' mother was a real piece of work, and I completely enjoyed seeing Therese stand up to her. That final confrontation was very emotional. In the end, Therese realized that she was partly to blame for the tension between her and the kids, as she understood what had been driving them. I hurt for the kids as they had to deal with the truth about their mother, but was happy to see that they began to appreciate what they had in Therese.
I also enjoyed seeing more of the ladies from the club. All of them are dealing with their losses in their own ways. I liked seeing more of Carly and Dane from the first book, and how their relationship is progressing. There are also sections that dealt with several of the other women, including Jessy. She is headed down a slippery path and I am looking forward to seeing how she gets through her challenges.

*copy of the book received in exchange for honest review.