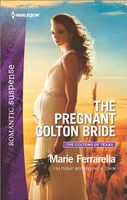 Series:
Coltons of Texas
(Book 8)
Mirabella Freeman, secretary to security expert Zane Colton, thought being pregnant and alone were her biggest problems… That is, until police discover a bank account in her name, complete with mysterious payments supposedly by Zane's missing stepfather! Now not only is Mirabella a suspect in Eldridge Colton's disappearance, but she's bombarded by rumors about the identity of her child's father. So when her gorgeous Colton cowboy boss proposes a marriage of convenience to save face -- and her reputation -- Mirabella is stunned, yet ready to say, "I do!" As the pregnant bride and her rancher husband fall in love, their hearts won't be all that's in danger…
Another terrific entry into the Coltons series. Zane is the head of security for the Colton businesses, and is determined to find out what has happened to his stepfather. It's been a month since his disappearance and there has been no progress made. Then the sheriff makes two discoveries. First is one of Zane's cufflinks outside his stepfather's window, putting Zane more firmly on the sheriff's radar. Second is that his stepfather has been making large withdrawals from one of his accounts, up until his disappearance. To Zane, it sounds as though Eldridge was being blackmailed, and he sets his IT person on the trail of finding out where the money was going.
Mirabella is Zane's personal assistant. She loves her job and is currently worried about keeping it. She is pregnant and suffering from all day sickness. It is affecting the way she does her job, but she's hesitant about telling Zane. She doesn't think he'll fire her over it, but she doesn't want to take the chance. Besides, he's got enough on his mind with everything else that's going on. Then things take a really weird turn when tracing the payments shows them being deposited to an account in her name!
Suddenly rumors are swirling through the company that her baby is Eldridge's, or maybe Zane's, and that she's sleeping her way to the top. Belle is horrified, furious, and embarrassed. After a very brief period of being suspicious himself, Zane realizes that there is no way that she could be involved. His protective instincts roused, he suggests that he and Belle marry to save her reputation.
I liked Zane when I met him in the previous book. He's got a level head and didn't seem to be interested in the back-stabbing and drama of some of the other members of the family. In this one, his strengths really become obvious. He is determined, he is methodical, and he is actually quite nice when he wants to be. I loved how observant he was about Bella's illness, and how cautious he was about saying anything. I was a little ticked at how quickly he jumped to conclusions about her, but he recovered quite quickly.
I liked Belle too. She is a nice person who is having a rough go of it, thanks to her pregnancy. I loved her confidence in Zane and his ability to find his stepfather, and her emotional support of him and his fears. She has also had a crush on him since she started working for him, but knows that he's out of her league. She's stunned by his offer of marriage, but marriage without love isn't what she wants. But she gives in when it becomes most practical.
I loved the development of their relationship. There had always been some attraction there, but neither would go there in the workplace. But their wedding kiss fanned the sparks into an inferno, and soon they couldn't keep their hands off each other. Because they went into the marriage as a temporary measure, neither believed that the other was interested in making it permanent. Belle was the first to realize that she was in love with Zane, and wished for more. Zane realized his emotions were getting involved, but did his best to shut them down. It wasn't until she was in danger that he allowed himself to admit how he felt. I loved that hint of vulnerability as he let go of his pride and told her how he felt. And in the end, I loved the surprise that he had for her - a really sweet moment for them both.
The mystery of the emails and the money was really well done. I could easily feel Zane's frustration at how long it was taking to find who was behind the emails. There was also the puzzling question of why Belle was being framed for the blackmail attempt. I liked seeing how he and Belle brainstormed to see if they could figure out who might have a grudge against either of them. I really liked the IT guy and his determination to figure it all out. Once he did, I really enjoyed Zane's reaction and what he did about it. That mystery had a very satisfying ending.
There wasn't a whole lot of movement on finding Eldridge. The sheriff is suspicious of all the Coltons, though in this book he seems to have his eye focused on Zane. I was very suspicious about the discovery of the cufflink after a month, especially as nothing was said about its condition. I got the feeling that it was in good shape, which it shouldn't be after a month outdoors. It became even more questionable when Zane caught Fowler doing something suspicious too. While several of the Coltons are pretty obviously innocent, there are others that certainly seem to have the motivation and the temperament. I'm looking forward to seeing the progress of this one.