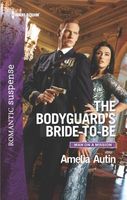 Series:
Man on a Mission
(Book 9)
A pretend engagement suddenly becomes very real…and dangerous
When Tahra Edwards sees a suspicious knapsack near a school yard, she leaps into action…and saves children from a bomb. But upon awakening in a hospital, Tahra discovers she's lost her memory -- including any recollection of the handsome military captain who says he's her fiancé. A charming alpha hero who seems to be hiding something…
As a high-level bodyguard, Marek Zale knows that a ruthless terrorist organization will stop at nothing to silence Tahra -- his ex-girlfriend -- permanently. To protect her, he must be by her side around the clock. And though he may not be telling her the truth about their engagement, their love for each other was always true…as is the danger threatening them both!
I have been looking forward to Marek's story since his first appearance. I knew it would be good, but this was even better than I expected. He is a captain in the Zakharian National Forces, assigned to the security of the royal family. In
King's Ransom
we see him as the king's bodyguard and friend, who is assigned to secretly watch out for the heroine, Juliana. In
Alec's Royal Assignment
, he is Angelina's superior officer. In both he is the typical Zakharian male, old fashioned (think fifty years behind the times) and protective, and a bit chauvinistic. By the end of that book he had learned some very important lessons about the capabilities of women. There was also mention of his romance with a young woman who works in the US Embassy.
Tahra is the administrative assistant to Alec Jones at the embassy. At the beginning of the book she is on her lunch break when she notices something suspicious at the school next door. When she realizes what the knapsack left by the school fence is, she doesn't hesitate to take action. However, she doesn't escape the consequences and is badly injured in the blast. When she awakens in the hospital, she has no memory of what happened, or the events of the last eighteen months - including the man who says he is her fiance.
This is where things get a bit complicated for Marek. In order to be with Tahra at the hospital, he has claimed her as his fiancee, even though she turned him down. He has been giving her time to get past the issue that parted them in hopes that she will see that they belong together. He still loves her and will do whatever necessary to protect her. When she doesn't remember him, he allows the lie to stand, rationalizing that it is for her safety. Tahra doesn't remember anything about their relationship, but she does sense that she can trust him, so she accepts his declaration.
This is kind of a second chance romance, as Tahra's amnesia gives them a chance to start over, and for Marek to fix the mistakes he has made. Both of them have some issues to overcome. What drove them apart was a secret that Marek had kept from her until after he had proposed. When he explained it, I completely understood his reasoning. It seemed like a rather insignificant reason for Tahra to be so upset, until I found out about her past. She had been badly hurt by a man who lied to her, and she saw it happening again. Though she can't remember their previous relationship, she does sense that there is something that Marek is holding back from her. Tahra had also been a bit timid growing up, with an overprotective sister, especially after their parents died when she was young. She had never really had to rely on herself, with Carly always there to look out for her. Now she's on her own and determined to be stronger and independent.
I loved seeing the development of the new relationship. Marek is determined to protect Tahra, but also find a way to prove his love. Tahra's need for her independence butted up against that protectiveness several times, and she had to work to get him to see her point of view. I loved the scene when she tried to leave the palace grounds and ran up against the orders she wasn't allowed to. Her confrontation with Marek, as she tried to explain her feelings, was eye opening for him. "You said I had a warrior's heart. If you truly believe that, then help me believe it too. I need to know I can stand on my own before I can stand at your side." It wasn't the first time that something she said to him rocked his world. There was also an interesting conversation on the drive from the hospital about double standards, and another one later about the meaning of "uber-alpha male". Each time, Marek found himself adjusting the way he thought of her. But he isn't the only one who changes. Thanks to the amnesia, Tahra's own way of dealing with Marek also underwent a change. She isn't so quick to judge, and is more willing to give him the benefit of the doubt when he does something that rubs her the wrong way. I also loved her conversation with Juliana, where she learns more about Marek and gets a better understanding of what makes him the man he is. Not everything is sunshine and roses, because Tahra still has the feeling that Marek is keeping something from her, something important. A devastating discovery, but an honest and open discussion with Marek, shows the changes in how both deal with the issue. I loved the vulnerability that Marek exhibited and the understanding that Tahra has grown into. What follows shows just how big the changes are, though there are still some surprises in store for Marek. By the time the epilogue comes around, their relationship is as strong as they could wish for.
The suspense of the story was fantastic. What struck me first was how similar it was to what is happening in the world today. From the moment of the first bomb blast, it is an intense journey to discover who and why. At the same time, there was also the viewpoint of the other side, showing that there is more to their plans than is suspected at the beginning. I loved seeing the way that Marek's mind worked as he puzzled through the details of each attack. It was fascinating to see the progress of his deductions, from the obvious to the horrifying reality. The plan that they came up with was brilliant, thanks to the teamwork of Marek and Angelina. The final confrontation was intense, with Tahra in the thick of it. I wasn't sure if either she or Marek would come through it unscathed. To put a cap on the whole thing, I loved the "good cop, bad cop" routine that he and Angelina did to get the final proof they needed to catch the mastermind.
I loved the depth of emotion that was evident throughout the story. I could feel Tahra's fear that she wouldn't be able to save the children at the school. The king's fury over the attacks on his people leapt off the page, as it did when he heard Marek's suspicions about the real objective behind them. I felt like crying right along with Tahra after the apartment bombing. But most of all, the intensity of the love between Marek and Tahra, even through their darkest moments, was a glowing beacon of hope for their future.
I loved returning to Zakhar and getting to learn more about this fascinating country. It's easy to forget that it is fictional thanks to the vivid descriptions of places, people and customs. I can't wait to visit again - maybe to see Xavier find his own One and Only?


*copy received in exchanged for honest review.