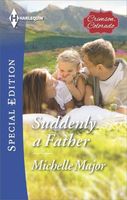 Series:
Crimson, Colorado
(Book 3)
HE NEEDS A NANNY -- STAT!
When Millie Spencer first meets Dr. Jake Travers, he's a mess. The handsome single dad desperately needs help with his newfound daughter. Perfect timing: Millie is trying to find her place in the world…and Crimson might be it! An ideal match! Until Millie realizes that little Brooke's daddy makes her feel more than just butterflies…
The last thing the good doc needs is Millie distracting him. Jake is determined to keep his eye on the prize -- building a home for Brooke and getting to know the child who is now his whole world. But he can't deny the way Millie makes his heart pound and how she's bonded with his little girl. Can Dr. Travers heal his own hurts to create the family both he and Millie have always wanted?
Very good book about family and overcoming the past. Jake found out that he has a four year old daughter right before the girl's mother and he were caught in an earthquake's aftershock. Jake was injured, but the woman died. Now Jake is trying to take care of her without depending on anyone else and feels completely overwhelmed. Enter Millie, half-sister of his brother's wife, who is willing to act as nanny while Jake recovers.
I loved that first scene, with Jake wearing a purple tutu, trying to cheer up Brooke, and dripping spilled juice all over the place. He wanted so desperately to be able to handle everything on his own and didn't want to admit he needed help. Having lost her mother, Brooke doesn't want to let her daddy out of her sight. I loved seeing Millie step in and begin to bring order out of chaos.
Jake came to Crimson because his brothers are there, but he doesn't take advantage of their offers of help. He carries a lot of guilt over things that happened when they were younger and finds it hard to believe that they want anything to do with him. Millie has come to Crimson to visit her sister and deal with some career issues of her own.
I loved seeing the relationship develop between Jake and Millie. There is a simmering attraction that they try to fight at first. Millie has fears of becoming like her mother, so she keeps a tight hold on her independence. Jake has a fear of letting down anyone who depends on him, so he avoids any kind of relationship. But there is something between the two of them that neither can deny, and they slowly start to open up to each other. I loved seeing Millie bolster Jake's relationship with Brooke and try to show him that all he really needs to do is be there for her. Jake senses that someone did a number on Millie's confidence in her abilities with children, and in herself. I loved his defense of her at the party and his belief in her when she told him her story. Their feelings for each other grow, but their fears still keep them apart, until a crisis with Brooke brings them back together. I loved Jake's big moment at the end, with the adorable assistance of Brooke.
There were some very emotional moments, such as Brooke's acceptance of her mother's death and her intense need to stay close to Jake. Jake's fear when she went missing and his realization of how much he needs her too was heart wrenching. I also loved seeing Jake mend his relationships with his brothers. There were also some very fun moments, such as his activities with Brooke. I loved some of the things she said so matter-of-factly. I'm looking forward to seeing more of them in later books.
*copy received in exchange for honest review