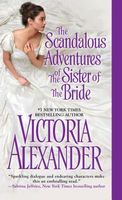 Series:
Millworth Manor
(Book 3)
The bride and groom cordially request the presence of . . .
The bride's sister, Delilah, the very proper widowed Lady Hargate, and Samuel Russell, the groom's friend, a very eligible, slightly improper bachelor at their upcoming wedding.
Lady Hargate and Mr. Russell, previously acquainted during one unforgettable night in New York City when caution -- and clothing -- were thrown to the wind will choose to pretend they have never met before.
The lady plans to avoid love and its complications at all costs.
The gentleman intends to change her mind.
Good story of opposites attracting. Delilah is a proper, though young, Victorian widow, who during a trip to New York indulges in one night of "adventure". She intends it to be a onetime thing, with no intention or expectation of seeing Sam again before she returns to England. Samuel is an American businessman who is quite taken with her, and rather miffed at the way she blows him off. However, he too doesn't expect to see her again.
Fast forward a few months and Delilah is at Millworth Manor, helping her sister Camille prepare for her wedding to Grayson Elliott (
What Happens at Christmas
). She is stunned to see her "adventure" walk into the room with Gray and dismayed to discover that he is one of Gray's best friends who has come for the wedding. Worried that he'll do or say something about their encounter, she waylays him and insists on secrecy. Sam, who hasn't been able to forget her, agrees, but only to keep the peace for now.
I have to say that, especially at the beginning, I didn't like Delilah at all. Except for that brief moment in New York, she came across as snobby, uptight, and occasionally just plain mean. As the book goes on, a little bit of why is revealed. Like her sisters, she was raised to do the proper and expected thing, so she married the man her mother chose for her and became the perfect wife. She even fell in love with her husband, only to find that he didn't feel the same about her, though the full details don't come out until later in the book. When Sam appears she is extremely rude to him, which made me like her even less. However, it quickly becomes obvious that she's reacting out of a sense of fear. That one night with him roused feelings in her that scared her, and now she's trying to protect her heart. She wants to marry again, but has definite ideas of what she wants, and a brash American isn't it.
On the other hand, I did like Sam. He's been burned in the past by a woman who was more interested in what he had than who he was. In spite of that, he still believes in love and marriage, and wants it for himself. He's not really happy with the way Delilah wants to hide what they had, but he's a gentleman and agrees.
I loved the development of their relationship. Delilah is determined to deny what is between them, and Sam is equally determined that she admit it. The sparks fly between them, as she continually tries to push him away and he refuses to be pushed. It was fun to see the tradition-loving Delilah and the progressive Sam butt heads over which one was right about such modern inventions as the "motorwagon" by Mr. Benz. I also liked seeing them move from adversaries to friends. Though she refuses to see it, they really do have a fair amount in common, which shows when they actually spend some time together. I loved the support that he gave her when she discovered some shocking news about her late husband. Sam wants to pursue the possibilities that he sees in front of them, but she insists that they are too different. Even after she admits to her sisters that she loves him, she still refuses to consider a life with him. I ached for Sam because he loved her so much and he couldn't get through to her. He's all set to give up on her when a blast from his past makes him realize that giving up is the wrong thing to do. The ending was pretty sweet with his "contract" and the way she had already come to her senses.
Throughout the book I also enjoyed the friendship that was there between Sam and Gray. They are good enough friends that Sam is able to ask for advice. There are some pretty amusing conversations between them, including one that takes place as the wedding gets closer and Camille is driving Gray nuts. I also liked seeing the advances in the relationship between Delilah and her sisters Camille and Beryl. There were still glimpses of the old issues, but their support for her was always there.