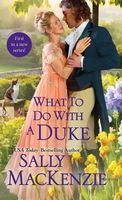 Series:
Spinster House
(Book 1)
Miss Isabelle Catherine Hutting would rather be lounging in the library than circling the ballroom in search of a husband any day. So when Cat hears that the town's infamous Spinster House is open for a new resident, she jumps at the chance to put all this marriage business behind her. But first she must make arrangements with her prospective landlord, Marcus, the Duke of Hart -- the most handsome man she's ever seen, and the only man who's ever impressed her in the least…
With her wit, independent spirit, and not least of all her beauty, Marcus can't help but be stirred by Cat. It's terribly unfortunate he's not looking to marry, given the centuries-old curse that left his family with the Spinster House to begin with. No duke shall live to see his heir's birth. But is there a chance the curse could be broken -- in true fairy-tale fashion -- by an act of true love? The race to Happily Ever After is about to begin…
Good book. It begins with Marcus, the "Cursed Duke", nearly getting trapped by another fortune-hunting woman. He has been contemplating his life, admitting his loneliness, but also hampered by the family curse. One of his ancestors had gotten himself cursed, and as a result, every Duke of Hart since then had died before his heir was born. He had decided to put off marriage for as long as possible, but now that he's turned thirty it is getting worse. When business calls him to Love's Bridge, he's glad for the distraction, but not so much about having to return to the birthplace of the curse.
Cat is twenty-four years old and the oldest of the local vicar's ten children. She has absolutely no desire to be married, seeing it as a trap that would be the death of her dreams. Cat wants to be a writer, but finding somewhere at home with the peace and quiet necessary is impossible. When she hears that the Spinster House is available, she is determined to gain it for herself.
From the moment they meet, the sparks fly between Marcus and Cat. Both try really hard to resist them, as marriage isn't what either has in mind, but they can't stay away from each other. Cat's family and friends do their best to push them together, not believing that life as a spinster is truly what Cat wants. Her youngest brothers, twins Michael and Thomas, are absolutely adorable with the way they took to "Dook". Cat's two friends, Anne and Jane, are also pushing her toward Marcus, though they also have ulterior motives. Each of them also wants to be the next resident of Spinster House. Cat's inner arguments with herself as she tries to convince herself that she does not want Marcus are pretty amusing. Marcus is really attracted to Cat and finds himself thinking about her constantly. He begins to yearn more and more for a family of his own, but the curse prevents him from believing it is possible. Supposedly the curse can be broken if the duke were to marry for love, but Marcus doesn't believe that love really exists. He's seen far too many matches made for profit, and even the ones that are supposedly for love fall apart. There was one surprising twist that softened that outlook just a little bit, enough to make a crack in his determination not to marry.
In the end, certain circumstances brought them back together, and they had to decide if they were willing to take the risk. I loved seeing how a certain kitty had a hand (paw?) in resolving some of the questions about the curse. I was looking forward to seeing the wedding and if the curse was broken or not, but that was left hanging. It will be interesting to see how the next two books are handled.