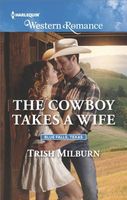 Series:
Blue Falls Texas
(Book 9)
THIRD TIME'S A CHARM?
Retired bull rider Cole Davis was much more successful in the ring than in his relationships. Twice divorced, he's come home to work on the family ranch and build his budding art career -- and steer clear of anything serious when it comes to women. But when he overhears Devon Newberry being bullied by her pushy mother, he comes up with a plan to help the pretty shopkeeper.
Though Devon hates lying, the blue-eyed cowboy's proposal of a fake relationship is working perfectly…until her feelings become all too real. She knows Cole's heart isn't available, but she can't help hoping she can change his mind!
Good book. Cole has come home to Blue Falls after having to retire from bull riding. He has begun a new career as a sculptor, as well as working his family's ranch. He is also doing his best to avoid his mother's matchmaking efforts. He has been married twice and neither one worked out. He figures that he is bad at relationships and has no interest in trying a third time.
Devon grew up in Blue Falls and now owns a successful crafts shop. She spins and dyes her own yarn and also makes soaps. She also suffers from an overbearing mother, who is constantly pushing "eligible" men at her, at the same time that she disparages everything that Devon has done with her life.
I fell in love with Cole when he came to Devon's rescue after hearing another example of Devon's mother harping at her about her choices. Cole jumps in, pretending that he and Devon are dating, as a way to get her off Devon's back. Devon is stunned that this man, who she crushed on in high school, would put himself out for her. He lets Devon know that maybe they can help each other out. He'll play the boyfriend for Devon's mom, if Devon will help him convince his mother that he's not interested in marrying again.
I loved the development of their relationship. They start out as friends, helping each other out, but knowing that the relationship isn't real. However, there is a definite attraction between them that they try to ignore at first. I loved seeing how spending time together brought them closer and deepened their friendship. It also fanned the flames that were growing between them. It didn't take long before they took the relationship from fake to real, but with the understanding that it was just casual. By this time, Devon knew that she was falling for Cole and wanted more, but she also knew that he was adamant about not wanting anything serious. Though she expected that she might get hurt, Devon makes the decision to take what happiness she can get with him.
I really liked seeing the changes that Cole went through. He had been burned badly by his two marriages and didn't want to risk it again, so he fought his feelings for Devon. It was fun to see how he found himself thinking about her all the time. He panicked a bit when he realized that he was falling for her. He wanted to pull back but couldn't bring himself to do it. I also loved his protectiveness toward Devon. I liked seeing him stand up for her.
Devon also went through some pretty significant changes. Thanks to her mother's emotional abuse, Devon has some problems believing that someone like Cole would honestly be interested in her. I loved seeing her confidence grow along with Cole's attention. It was especially satisfying to see her stand up to her mother.
I loved the ending. Cole's defense of Devon and expression of his feelings were really awesome. I ached for Devon as she thought it was part of "the act" and not real, and for Cole as he thought he was being rejected. I loved Cole's big moment and the hint of vulnerability as he reiterated his feelings, and Devon's realization that her dreams were coming true.
Through most of the book I detested Devon's mother and was thrilled to see Devon stand up to her. But I also liked Devon's determination to fix their relationship. The background turned out to be pretty interesting. I liked the progress that was shown, and the realism that it was still a work in progress at the time of the epilogue.