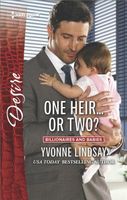 Series:
Billionaires and Babies
(Book 75)
Kayla Porter vowed to be a surrogate for her deceased sister's embryos. She's already given birth to her niece Sienna. But a clinic crisis means she's running out of time to fulfill her promise. She needs Donovan Murphy's help—if they can work around the explosive chemistry that's reignited between them!
The tech tycoon agreed to be a sperm donor, not a father. But that changes when he meets his baby daughter Sienna. He will claim his little girl…and her passionate, headstrong mother!
Very good book with a somewhat unusual storyline. Van, Kayla and her sister grew up together. Van and her sister were best friends, while Kayla was a tagalong. Years later, Kayla's sister is diagnosed with cancer and asks Van to be sperm donor for her so she can have children after her treatment. But she died, leaving the eggs to Kayla, who swore she would have the babies her sister couldn't. Five years later she's already given birth to one, but there are two left. The clinic is about to close down and destroy unused embryos. Kayla isn't financially ready for another baby, but she has no choice. So she goes to Van to ask for his help.
Van is surprised to see Kayla and stunned to discover that he's a father. He'd agreed to be donor, never expecting the embryos to be used. He's not happy to discover that he's a father, and flatly refuses to help Kayla with the others. In fact, he's determined to stop her from using them at all. By the time he gets all the paperwork in order, it's too late - Kayla is pregnant again.
I really liked Kayla. She's been a bit of a dreamer, footloose and commitment free. But once she decided to have her sister's baby, she changed her entire life. I loved hearing everything she did, both before and after Sienna was born. She also has a big heart, helping people who need a second chance. Unfortunately, her most recent helpee ended up helping herself to Kayla's savings and disappearing, which forced Kayla into asking for Van's help. When he refuses she's determined to push on anyway.
Van was a bit harder for me to like, at least at the beginning. When he first appears, he's contemplating his upcoming marriage proposal. It's obvious it's more of a business merger, with no thought of love. When Kayla came to him, he was furious about the existence of the baby and pretty darn nasty to Kayla. When he went to her a few days later, he was horrified to see that they'd been the victims of an attack, and that Kayla was extremely ill. His protective instincts come out and he insists on Kayla and Sienna moving in with him. He becomes a bit of a contradiction at this point, protective and kind, but also frequently cold and aloof.
I liked seeing the relationship develop. There is an attraction between them that can't be denied. They gave into it once, after her sister's funeral, with Van disappearing without a word the next day. Now they fight its effects every day. Kayla is there under protest, only because she is so sick and needs the help. Her pride and independence have her protesting just about everything Van does. He tends to roll right over her when he decides something needs to be done, which really ticks her off. However, he is also getting closer to little Sienna. I loved seeing him slip into the daddy role, even though he is sure that he isn't fit for the job. Kayla began to fall more deeply for him, as she saw the man he could be emerge from the shell created by his past. But Van still has those fears and continues to push her away, or withdraw as far as he can. But when his former fiancee gets involved, Van has to face those fears or lose Kayla, Sienna and the new baby, and any chance of happiness. I loved his big moment at the end, seeing him admit his fears to Kayla. I also liked that it wasn't a sunshine and rainbows ending, but an admission that it would take effort to ensure their happiness.

*copy received in exchange for honest review