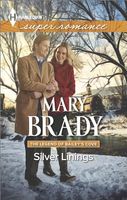 Series:
Bailey's Cove
(Book 2)
Fate has reunited them…but for how long?
Life took a detour when Delainey Talbot became a mother. There's no better job but that doesn't mean she isn't excited about finally becoming a lawyer -- a dream she's this close to fulfilling. So when the partnership at Bailey's Cove's only law firm goes to Hunter Morrison, she's devastated.
Hunter and Deelee haven't seen each other since their ill-fated romance ended suddenly -- he doesn't even know about six-year-old Brianna! Deelee wants him out of her town and her job. Too bad her heart says this could be their chance at the life they were meant to have.
Good book. A little slow moving, but I enjoyed the story. Delainey is a paralegal at a local law firm. She has just gotten into law school, a dream that was put on hold six years earlier when she became a mother. The plan is for her to become a partner when her boss retires in a few years. So she is stunned when she comes in to work one day to find that her boss has stepped down and his spot given to someone else. Not just anyone, but her old boyfriend, who had left her behind when he went to law school, and who hasn't been back since.
Hunter needed a place to go, away from Chicago and the mess he'd made of his career there. He had made the mistake of getting involved with a client, one who turned to stalking when he broke things off with her, and who then disappeared, implicating him. When Shamus asked him to come to Bailey's Cove for a year, he was happy to do so. He didn't expect to run into Delainey, and to find out that she has a six year old daughter.
Their initial reunion doesn't go very well. Delainey is furious and hurt that he has taken her job. All she wants is for him to go away so that her life can get back on track. It doesn't help anything that she's still as attracted to him now as she was then. Hunter is suspicious about Delainey's daughter. She's the right age to possibly be his, but why would she have told him? And if she isn't, that means that Delainey might have been seeing someone else. It looked like it was going to be a long year if they didn't find a way to settle their differences.
I liked the way that they didn't let the situation fester for very long. Both of them are mature enough to talk through their issues and decide to resurrect their friendship. Their romance was another thing entirely. Hunter remembers just how determined he was to escape the small town and how much he loves his job in Chicago. Once the scandal dies down, he has every intention of going back. At the same time, Delainey loves Bailey's Cove. Her family is there, her friends are there, and it is exactly where she wants her daughter to grow up. But though their heads say no, their hearts and bodies seem to have other plans. I loved watching them grow close again. Delainey sees how good Hunter is with the locals and that he could easily fit in there again. And though she's always been certain that Hunter isn't Brianna's father, seeing them together has her wondering if she was wrong. If she is wrong, would Hunter want to be a father to Brianna, and maybe more? Hunter is surprised by how comfortable he is back in town, and how quickly Delainey and Brianna work their way into his heart. But he's afraid that if he stays he'll start to miss what he had and grow to resent them, so it's better if he doesn't start.
There are some pretty intense scenes, including one where his past shows up in Bailey's Cove. A scare involving her and Brianna brings out the protector in Hunter. I loved the scene in the restaurant when he handles the situation perfectly, thanks to a little advice from a friend. I ached for Delainey when Hunter went back to Chicago. It was satisfying to see him realize how much he had changed during the short time that he was in Bailey's Cove, and what he decided to do about it.
I also enjoyed the secondary characters, Brianna most of all. She was a pretty adorable six year old. I loved her reactions to all the names that her mom came up with for her. She had her moments of misbehavior, but that just made her seem more real. I also liked Delainey's sister Christina, and how she and Delainey were always there for each other. I'd like to know how her blossoming romance turns out. I also loved all the employees of the law firm. Each was an individual with their own quirks and seeing how they reacted to Hunter was also very real. I'm looking forward to reading the next book in the series.