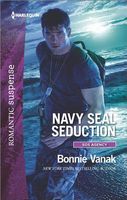 Series:
SOS Agency
(Book 1)
A navy SEAL takes on a death-defying assignment to save the one who got away…
With the island nation of St. Marc erupting in civil war, SEAL Jarrett Adler must rescue the woman he never got over -- his alluring ex-wife, Lacey. Jarrett regrets failing her as a husband, and he hopes protecting her will offer a second chance to win her trust.
As charming and sexy as Jarrett still is, Lacey knows he won't stick around. She's found her niche in nonprofit work and longs to create a family of her own. But when death threats and bombs arrive at her door, she turns to the man who still holds her heart. Can Jarrett and Lacey navigate their way home -- and back into each other's arms?
Very good book and start to a new series, packed with emotion, political unrest, and action. Jarrett is a navy SEAL who is on leave. He went to St. Marc to visit a fellow SEAL, and also to check up on his ex-wife, Lacey. It's been five years since their divorce, but he's never gotten over her. The situation on the island has him worried about her and he's determined to get her to safety.
After her divorce from Jarrett, Lacey started a nonprofit organization that helps abused women on the island escape from their abusers and become self-sufficient. She's made a home for herself and the five year old girl she has adopted. But threats and strange occurrences have her worried.
The story started out with a confrontation between Jarrett and Lacey. He's used some trickery to separate her from her coworker and she isn't happy about it. She's even less happy about his determination to make her leave St. Marc and lets him know, in no uncertain terms, that she isn't going anywhere. An eruption of gunfire emphasizes his point, but Lacey will not budge. He goes with her back to her home, still determined to get her out.
From the moment they meet again, it's obvious that there are still strong feelings. Jarrett has never forgotten her and feels that he failed her during their marriage. Lacey wants him gone because he rouses too many painful memories for her. The painful events that led up to their divorce were made even worse by their lack of communication. Jarrett hadn't wanted to inflict the things he had seen and done on Lacey's innocence, so he kept it all inside. When she lost the baby, he didn't know how to express his own feelings of loss. On her side, Lacey was so determined to be the perfect Navy wife that she never told Jarrett how much she worried about him, and how much she hated that he was always gone. When he left again a few days after the miscarriage, she'd had enough. Five years later, both of them have gone through considerable changes. Lacey has found her confidence and finds it easier to express her feelings and her needs. Jarrett has begun to realize just how much he has lost and that duty to country isn't enough anymore. I loved seeing them start talking to each other and opening up about the way they had felt back then.
I also loved seeing that their connection became even stronger in the present. Jarrett appreciated her strength, her commitment to her people, and how deeply she loved her daughter. Lacey felt safe with Jarrett near, trusting him like she trusted no one else. She also loved the way he connected with her daughter, helping the child deal with the traumas she'd been through. Then to add the icing to the cake, their attraction was stronger than ever. They had always been good together, but now the chemistry between them opens their eyes to the fact that their love had never died. The question becomes one of whether they can get past their old hurts and have the life they dreamed of together.
The intensity of what was going on around them kept me turning the pages to the very end. It was the political unrest and his fears for her safety that brought Jarrett to St. Marc, but it was the immediate danger to her that set his instincts off. He was determined to find out who was behind the vandalism and death threats that she had been receiving. He had his suspicions, but getting the proof was proving to be more difficult. There was also the problem of finding out who had killed little Fleur's mom and who seemed to be determined to finish the job by killing the child too. There were some terrific scenes of nail-biting intensity as Jarrett's SEAL skills are the only things keeping the ones he loves alive. When the political unrest collided with the threats against Lacey, she was thrown into incredible danger. I loved seeing her remain calm and remember the things that Jarrett had taught her, keeping her alive long enough for him to find her. Following along with Jarrett's investigation, there were so many possibilities for who was behind the trouble. Every time I thought I had a handle on who it might be, something new would come to light and change everything around. I have to say that I was completely surprised by who "El Jefe" turned out to be. Even after that there was still one surprise player who showed up at the very end, finally setting Fleur free of her fears.
I loved the epilogue and seeing the decision that Jarrett made about his future. I'm looking forward to more of the series and getting to know his teammates.