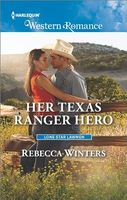 Series:
Lone Star Lawmen
(Book 4)
TEXAN WITH A CAUSE
Teaming up with a civilian to bring down a trafficking ring isn't Luckey Davis's usual style. But after Allyson Duncan decodes a cryptic message that gives him his first lead, Luckey realizes Ally is indispensable to his case. The Lone Star lawman also realizes he's in danger of falling for the beautiful professor.
Ally can't believe a legendary Texas Ranger needs her expertise. And as her own feelings for Luckey deepen, is she ready to commit to an uncertain and perilous future? Or has this deep-in-the-heart-of-Texas woman found her safe harbor with the honorable man she dreams of calling her own?
Really good book. Luckey has been given a case of possible human trafficking, involving young oriental women, to investigate. One of the clues is some writing that appears to be Chinese, but no one can translate it. He heads off to the university to get help from one of their professors.
Ally grew up as the daughter of a diplomat who spent many years in China, She is fluent in several of the dialects and the perfect person to help Luckey. She also has a personal interest, as the cousin of one of her best friends may have become a victim of those traffickers.
I loved the first meeting between Luckey and Ally. She was on her way out of her office and ran right into him. I loved her reaction. Ally has always been fascinated by Texas Rangers, and to run into one that was also so good looking turned her to jelly. Luckey was pretty bowled over himself. Since his divorce eight years earlier his heart had been pretty well locked up, but Ally bashed right through those walls. He was just as fascinated with her. It was fun to see him trying to figure out a way to see her again, with or without the case for a reason. As the days went by, they found any reason they could to spend time together. I loved seeing how easily Ally fit in with his Ranger friends, and the teasing he got from them about falling for her. I also loved the dinner that Luckey had with Ally and her parents. There was a lot of mutual respect and it was obvious that her parents liked him. I also loved the story her dad told about her fascination with the Rangers since she was little. The relationship was moving along quite fast, but there were some bumps along the way. Luckey is a bit wary because his ex-wife couldn't handle his work as a Ranger, but he couldn't give it up. Ally was doing fine with it until another Ranger was killed, then she started to wonder if she could deal with the danger and uncertainty. Then when Ally was caught in some danger, Luckey freaked out also. I ached for them both as they worked their way through this issue, and they wondered if a future was possible for them. I really loved the ending as Ally made her case, and the joy it brought to Luckey. The scene in the hospital was sweet, and I loved their arrival at Luckey's home.
The mystery of the trafficking was really good too. I liked how Luckey and his brother had talked about what was happening even before Luckey ended up with the case. Then, as Ally was helping Luckey, she realized that there may also be a connection with her Chinese friend. It was really interesting to read about the various Chinese dialects, the "woman's writing", and some of the customs. I loved how Ally and Luckey worked together, and the involvement of her parents also. It was fascinating to see how the various pieces fit together. The final confrontation was definitely intense, and I was on the edge of my seat waiting to see how it would turn out. I loved seeing it all come together.