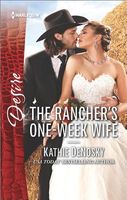 Blake Hartwell is a sexy-as-sin rodeo champion with money to burn and a way with the ladies, but to Karly Ewing he's her soon-to-be ex! Their whirlwind affair ended with Vegas "I dos" -- but saying yes was a mistake. So Karly heads to his ranch, divorce papers in hand, only to be stranded with the man she can't resist! Will temptation lead them to happily-ever-after? Or will Blake's secrets tear them apart for good?
Good book. City girl Karly and rodeo champion Blake run into each other in Vegas. Blake's quick reflexes keep her from landing on the floor, The sparks between them fly fast and hot, and by that evening they are in bed together. By the end of the week they are in a chapel saying "I do". Blake heads home to get things ready for her arrival, as Karly goes home to Seattle to pack her things and join him. What Blake gets instead is a call from Karly saying it had been a mistake and she'd be sending him divorce papers.
Eight months later Karly shows up at the ranch to let him know that the papers had been lost in the mail so that they are still married. She has new ones for him to sign that she will hand deliver, and then it will really be over. But a strike at the airport has her stranded in Wyoming, and Blake talks her into staying on the ranch until she can fly out.
I liked Blake. He had fallen fast and hard for Karly and was heartbroken when she called things off. He's understandably wary about her arrival, not wanting to get hurt again. He soon realizes that the chemistry between them is still strong, and that something must have scared her off. He is determined to find out what it was, and show her that they can be happy together. But he's also got a secret he's been keeping from her. Far from being the ranch foreman, as he has let her believe, he's actually the owner of the ranch and quite wealthy. However, he's been burned by those more interested in what he has than who he is, so he's kept quiet.
I liked Karly too, but she frustrated me at times. She was definitely still in love with him, but her insecurities had her believing that it wouldn't last. She fears that if she quits her job and moves away from the city, she'll grow to regret it and it would ruin their marriage. She saw it happen with her parents and rather than risk it, she won't even try. I was also a little disappointed by her disparaging attitude about the ranch, but as that changed quickly, I chalked it up to city girl ignorance.
I really enjoyed the development of their relationship. They had a good start in that the love was there. What they needed to do was actually talk to each other about their pasts, their fears, and their dreams for the future. I really liked the way that Blake was determined to show her the beauties of the ranch. I loved her first experience riding. Blake got a lot of amusement out of her nervousness, but he was also really good at teaching her. It was also pretty funny to see him trying to get her to take advantage of the amenities of the ranch house without admitting that the house is his. Karly began to think more and more that she'd made a mistake in asking for the divorce, but she was still afraid to trust in her own feelings. Blake felt that he was finally starting to make some headway when he got her to agree to stay even longer, and even Karly was starting to see possibilities. Then Blake's brother showed up and inadvertently spilled the beans. Devastated by what she sees as Blake's lack of trust, she runs. Blake has to face up to his mistakes and decide if he's going to go after her. I loved his big moment at the end, and his determination and persistence in wanting Karly to hear what he has to say. The epilogue was really sweet. Now I'd like to see Blake's brother get his own story.