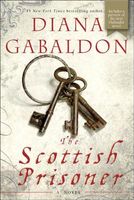 Series:
Outlander
(Book 3.7)
London, 1760. For Jamie Fraser, paroled prisoner-of war in the remote Lake District, life could be worse: He's not cutting sugar cane in the West Indies, and he's close enough to the son he cannot claim as his own. But Jamie Fraser's quiet existence is coming apart at the seams, interrupted first by dreams of his lost wife, then by the appearance of Tobias Quinn, an erstwhile comrade from the Rising.
Like many of the Jacobites who aren't dead or in prison, Quinn still lives and breathes for the Cause. His latest plan involves an ancient relic that will rally the Irish. Jamie is having none of it -- he's sworn off politics, fighting, and war. Until Lord John Grey shows up with a summons that will take him away from everything he loves -- again.
Lord John Grey -- aristocrat, soldier, and occasional spy -- finds himself in possession of a packet of explosive documents that exposes a damning case of corruption against a British officer. But they also hint at a more insidious danger. Time is of the essence as the investigation leads to Ireland, with a baffling message left in "Erse," the tongue favored by Scottish Highlanders. Lord John, who oversaw Jacobite prisoners when he was governor of Ardsmuir Prison, thinks Jamie may be able to translate -- but will he agree to do it?
Soon Lord John and Jamie are unwilling companions on the road to Ireland, a country whose dark castles hold dreadful secrets, and whose bogs hide the bones of the dead. A captivating return to the world Diana Gabaldon created in her Outlander and Lord John series, The Scottish Prisoner is another masterpiece of epic history, wicked deceit, and scores that can only be settled in blood.
Very good book that takes place concurrently with
Voyager
, during the time that Jamie spends at Helwater. Jamie has been there for three years, working as a groom. He occasionally sees Lord John, who check up on his parolee. Relations are strained between them, thanks to something that happened in a previous book. Jamie has kept a low profile, doing his work and staying out of trouble. Then he is contacted by an Irishman he knew in France, part of Prince Charlie's inner circle. This man wants to involve Jamie in a new plan to restore Charlie to the throne. Jamie, of course, wants nothing to do with it, knowing (thanks to Claire) that no attempts succeed. Jamie sends him away, but is aware that Quinn will not give up easily.
John has been given some papers that implicate a fellow soldier in some nefarious doings. In those papers is a poem written in Erse, or Scottish Gaelic. While John knows that Jamie is capable of translating, he will not ask it of him. Instead, his brother Hal, Duke of Parloe (who is responsible for saving Jamie's life after Culloden), sends for Jamie behind John's back. His intent is to have Jamie translate, and then help with John's mission.
The poem that Jamie translates does have to do with a new attempt, and the soldier that John is investigating for corruption may be involved. John and Jamie are sent to Ireland to arrest the soldier and bring him back to London for trial. They are joined on the trip by Quinn, who John does not know, and who is playing his own games. Jamie is caught in the middle, knowing what he does about Quinn, but not wanting to get involved in it. It can't be helped, and soon he discovers that there is a link between the corrupt soldier and the plot. As always, Diana includes quite a few twists and turns in this plot, as John and Jamie work to bring the man to justice.
The attempt at a new Rising that Quinn is involved in has some spooky elements to it. What he is looking for is a cup, similar in some ways to the Holy Grail, which is said to have supernatural abilities. In the course of Jamie's investigation into the poem, he is exposed to this cup. Diana's descriptions of the cup and its effects, and its background were vivid enough that I got goosebumps right along with Jamie. I ached for Jamie, knowing that he wishes for the restoration but also knows that it won't happen. He wants to save others from their folly, but accepts that he can't.
Over the course of the trip, Jamie and John work their way slowly back to a tentative friendship. I ached for John and is unrequited feelings, but also appreciated that he accepted it and wanted to get back their previous comradeship. As John discovers the reason that Jamie wants to stay at Helwater, even though he is offered his freedom, he is surprised but accepting.
I really liked seeing the relationship between Jamie and young Willie. Though he can never acknowledge it, Jamie loves being a part of Willie's life. It was sweet to see how Willie tagged after Jamie and tried to emulate him. It was bittersweet for Jamie, who saw how some of his interactions with Willie echoed those of himself with his own father. I liked seeing the incident when Willie was lost in the fog, as it was later mentioned in either
Echo in the Bone
or
Written in My Own Heart's Blood
.
There was also an interesting twist with a character named Edward Twelvetrees. The Twelvetrees family has some history with John's family. Edward was involved with the corrupt soldier, giving the Greys more reason for their dislike of him. A confrontation between Edward and John and Jamie led to a duel. After the duel a shocking revelation was made about Edward that had a profound effect on John.
Overall, I really enjoyed seeing the beginnings of the true friendship that grew between John and Jamie. This is a relationship that plays a big part in later books. There are still some tensions between them due to their history, but they've come a long way toward overcoming it.
I also found the history behind the story to be very interesting. I hadn't known anything about later conspiracies to return a Stuart to the throne, nor about the role of the Irish. I learn something new whenever I read one of Diana's books.